UN Recommends Graduating 2 Pacific Island States From the LDC Category
The UN recommended recently that Solomon Islands and Kiribati be removed from the least developed country (LDC) list.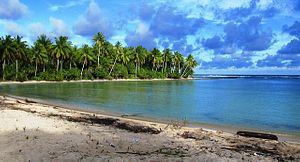 The United Nations triennial review of its least developed country (LDC) category in March recommended that two Pacific Island states — Solomon Islands and Kiribati — be removed from the list (alongside Bhutan and Sao Tome and Principe). The LDCs represent the poorest and weakest states in the international community and countries with this status are afforded a number of operational privileges within trade and development assistance in order not overburden them.
The LDCs are assessed using three criteria: health and education targets, economic vulnerability, and gross national income per capita. Countries must meet two of the three criteria at two consecutive triennial reviews of their status to be considered for graduation. Both the Solomon Islands and Kiribati have been able to achieve strong enough gains in these assessments over the six-year period to graduate out of the category.
This is a positive sign for the Pacific, as it will leave Tuvalu and Vanuatu as the only two Pacific Island states assessed to be among the 43 remaining LDCs. Vanuatu will be scheduled for removal from LDC status at the next triennial review in 2021 (if it can maintain its current health, education, and wealth indicators). Samoa graduated from LDC status in 2014.
While these advancing metrics should be deemed a source of pride for states that are able to graduate, it can also come with some extra costs. These countries can lose some of the international support measures that come with LDC status, particularly favorable trade arrangements that allow them to gain preferential treatment on market access, avoiding tariffs that may making their products uncompetitive.
However, on closer examination the extra burdens placed on the Solomon Islands should be minimal. The UN assessment indicated that this graduation would have no impact on the Solomon Islands' major export, logs. Most of the country's logs are purchased by China, and although the Solomon Islands does not recognize China (maintaining diplomatic relations with Taiwan instead), Beijing does not impose any import tariffs on its logging products.
The Solomon Islands' minerals exports — gold, bauxite, copper, nickel, and cobalt — similarly all are imported by countries that place no duty or quotas on these exports. The country will maintain duty-free, quota-free access for all its products entering into both Australia and New Zealand under the recently signed Pacific Agreement on Closer Economic Relations (PACER Plus).
Kiribati, however, will face a few extra burdens. Although exports of its fish, copra, and coconut products would not face any tariffs into the Australian and U.S. markets, their fish would be subjected to a small tariff into Japan. The situation with the European Union is a little more complicated. Prior to having its status ungraded by the UN, Kiribati had cleared market access barriers into the EU for fish products utilizing the benefits bestowed on the country by its LDC status. The country's new status will void this agreement and its fish products will be subject to significant tariffs entering into the EU.
In terms of development aid, for both countries all their major bilateral development partners have confirmed that their programs are not contingent on LDC status. Similarly, multilateral organizations like the World Bank and the Asian Development Bank do not utilize the UN's LDC status for their assistance packages, using formula of their own. For the Solomon Islands, Australia and other members of the Pacific Island Forum have recently invested significant resources in the Regional Assistance Mission to Solomon Islands (RAMSI), organized to intervene in the country's ethnic conflict. Maintaining strong development partnerships would be seen as key to the country's stability.
While the improvements in education, health, and income levels in Kiribati and the Solomon Islands are positive events, these countries — especially Kiribati — remain extremely vulnerable to the effects of climate change and extreme weather activity. Due to this, countries retain financing from UN sources like the Green Climate Fund that favors Small Island Developing States (SIDS).
For Kiribati the threat from climate change is absolute and the government has begun developing a relocation plan for its over 100,000 citizens (including the purchase of a large tract of land in Fiji). Part of this plan is to develop the education level of its people to allow them become skilled migrants, rather than climate refugees. The graduation from LDC status indicates that some positive progress is being made toward this goal.