Will the US Send a F-35-Carrying Amphibious Assault Ship to Korea for War Games?
The U.S. is reportedly dispatching an amphibious assault ship to the Korean Peninsula for a joint-U.S.-ROK landing exercise early next month.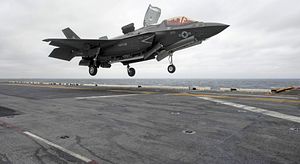 The U.S. Navy is purportedly sending an amphibious assault ship carrying a detachment of F-35B stealth fighter jets to the Korean Peninsula for a landing exercise scheduled for early next month, according to senior Republic of Korea (ROK) defense officials.
The Wasp-class amphibious assault ship USS Wasp, currently on its first operational deployment in the Indo-Pacific region, is expected to arrive in Korean waters at the end of this month to participate in a landing exercise as part of the annual Foal Eagle/Key Resolve U.S.-South Korea joint military drills simulating war on the Korean Peninsula.
The landing exercise is slated to take place in Pohang, North Gyeongsang Province in early April, South Korea's Chosun Ilbo newspaper reports, and, according to ROK sources, will be more than twice as large than last year's amphibious assault drill.
Neither the ROK military high command nor the U.S. Navy have publicly confirmed the participation of the amphibious assault ship carrying a detachment of F-35Bs, the U.S. Marine Corps' short take-off and vertical landing (STOVL) variant of the supersonic fifth-generation F-35B Lightning II Joint Strike Fighter.
At the same time, reports have also emerged that no U.S. Navy aircraft carrier will participate in the military drill next month. Last year, the Nimitz-class nuclear-powered aircraft carrier USS Carl Vinson took part in the exercise. They year before, the USS John C. Stennis joined up with other U.S. and ROK naval forces off the Korean Peninsula during Foal Eagle.
Wasp-class amphibious assault ships have taken part in joint U.S.-ROK military exercises in the past. However, this would be the first time operating F-35Bs from its flight deck. F-35s have participated in military drill in South Korea before. For example, the U.S. Air Force last deployed six F-22 Raptor and 18 F-35 stealth fighters (including 12 F35Bs) to the Korean Peninsula in early December 2017 for an air combat exercise.
North Korea is thought to consider the F-35 stealth fighter a "strategic asset," a term that usually also includes aircraft carriers, nuclear-powered submarines and U.S. strategic bombers such as the B-1, B-2 and B-52. The weapons systems are considered provocative by Pyongyang as they would be key U.S. assets in any preemptive-strike scenario against the North.
Wasp-class amphibious assault ships are the size of small aircraft carriers and can deploy around 31 military aircraft including the AV-8B Harrier IIs, MH-60S Knighthawk helicopters, AH-1Z Viper helicopters, and MV-22 Osprey tiltrotor aircraft. The ship can also can embark up to 2,200 assault troops. The USS Wasp underwent retrofitting last year to be capable of accommodating and launching F-35B stealth fighters. Earlier this month, a series of F-35B qualification flights were conducted on the ship.
"Following qualifications, the F-35B's and 2,300 Marines that make up the 31st MEU will deploy aboard ships of the Wasp Expeditionary Strike Group [ESG] for follow-on operations in the Indo-Pacific region as part of a routine patrol to strengthen regional alliances, provide rapid-response capability and advance the Up-Gunned ESG concept," a March 5 statement by the U.S. Navy read.