Coming to Foal Eagle 2018: US Marine Corps' Wasp Expeditionary Strike Group
There won't be a carrier at this year's Foal Eagle exercise, but there will be an immensely well-equipped U.S. Navy Expeditionary Strike Group.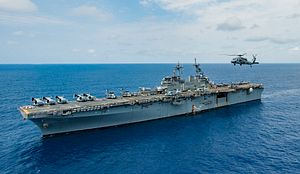 Last week, I commented on the delicate balance the United States and South Korea are trying to strike with this year's Foal Eagle military exercises—the first mass-mobilization field exercises the alliance has staged since North Korea's tests of three intercontinental-range ballistic missiles last year.
The alliance's dilemma is simple: it must not allow the exercises to dwindle from their previous scale as a result of the burgeoning diplomacy around North Korea's nuclear program that began this February with the inter-Korean meetings during the Winter Olympics; but it equally must avoid having the exercises scuttle what appears to be, for now, a trajectory putting the United States and South Korea on track for summits with North Korean leader Kim Jong-un.
As a result, the allies have decided to avoid incorporating so-called "strategic assets" into the exercises this year. Unlike the 2015, 2016, and 2017 iterations of Foal Eagle, this year's exercise will see no U.S. Navy nuclear-powered supercarrier participate. Moreover, no U.S. nuclear attack submarines will visit South Korean ports during the exercise and no U.S. strategic bombers will conduct Bomber Assurance and Deterrence mission flights.
Public diplomacy from the Korea-based allied Combined Forces Command has emphasized that this year's exercise will really be no different from previous iterations—apart from those important differences, of course. The alliance is determined to show its "iron clad" resolve and unity. North Korean leader Kim Jong-un had also told South Korean presidential envoys in early March that he understood that Foal Eagle would have to go on as planned.
However, just because the United States is excluding its Nimitz-class carriers, strategic bombers, and nuclear attack submarines, it doesn't mean there won't be any other ostensible "strategic assets" participating. As my colleague Franz previewed earlier this month, the U.S. Navy's Wasp Expeditionary Strike Group (ESG) will deploy for a landing exercise at Pohang in South Korea's North Gyeongsang Province.
The Wasp ESG forms the cornerstone of the U.S. 7th Fleet's rapid-response capability. The amphibious assault ship at the core of the ESG, USS Wasp, is carrying six F-35B Lightning II fighters. The fighters are deployed with Marine Fighter Attack Squadron (VMFA) 121—the first forward-deployed U.S. F-35Bs. Earlier this month, the first F-35B from VMFA-121 conducted a successful landing on USS Wasp.
The U.S. Navy's ESG concept is built around an amphibious assault ship, a dock landing ship, an amphibious transport dock—supported by a Marine expeditionary unit, short take-off/vertical landing-capable fighter aircraft, and helicopters. The Wasp ESG includes three Arleigh Burke-class guided missile destroyers in a surface action group (SAG), which enables so-called 'Up-Gunned' operations for the ESG.
These operations would allow the Wasp-based F-35Bs to cue targets for Standard Missile-6 (SM-6) missiles based on these destroyers. The participation of the SAG drove U.S. Pacific Fleet commander Admiral Scott Swift to comment in 2017 that the vessels would operate with the Wasp ESG "just as we do a carrier strike group."
In the context of Foal Eagle, the Wasp ESG will be far from a peripheral participant. The ESG brings tremendous capability and is, for all intents and purposes, a "strategic asset." Even as the two Koreas hurtle toward a summit at the end of April, North Korea is likely to issue its standard rhetorical protests about the U.S.-South Korea exercises in its state media. Watch for any mention of the Wasp ESG and its complement of F-35Bs.