DPRK-Linked Academic: Prepare for 'Sad' Conclusion to Abductee Issue
A professor from Korea University sought to "convey the perspectives from Pyongyang" in a Tokyo press conference.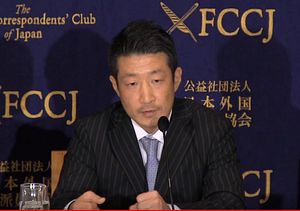 Japan must be prepared to accept bad news if North Korea reopens an investigation into the fate of historical abduction victims, according to an academic with close links to Pyongyang. Ri Pyong Hwi, an associate professor of Korea University (Japan), weighed in on the sensitive issue that the Japanese government has made a diplomatic priority when he addressed the Foreign Correspondents' Club of Japan earlier this week at an event this author moderated.
First, it is worth noting some background about the speaker. Korea University (Japan) was established in Tokyo in the 1950s by the General Association of Korean Residents in Japan, a pro-Pyongyang entity that is sometimes described as North Korea's de facto embassy. The university management has received funding from North Korea. When asked by a journalist on Monday whether he was speaking for Pyongyang, Ri said he believed that a lot of the debate in Japan was biased. "Therefore I feel that it is personally my mission to look at how to convey the perspectives from Pyongyang to the Western world, to the outside world."
As I have previously written for Tokyo Report, the Japanese government has been prodding South Korea and the United States to use forthcoming summits with Kim Jong-un to call for the return of all of the Japanese citizens abducted by North Korean agents in the 1970s and 1980s. Kim's father, Kim Jong-il, admitted in 2002 that 13 Japanese citizens had previously been taken by special forces and allowed five of them to return to Japan. The regime claimed the others had died – but relatives and the government doubt the official account. The Japanese government lists 17 citizens as abduction victims and has suspicions about numerous other people who also vanished.
In the past fortnight, Japanese Prime Minister Shinzo Abe has had some success in getting support from Seoul and Washington to pursue the issue. Abe sought a specific pledge during face-to-face talks with U.S. President Donald Trump in Florida last week. Trump, who is expected to meet with Kim in late May or early June at a location yet to be confirmed, told reporters he wanted the affected families to be reunited as soon as possible: "I know for a fact that it's one of the truly most important things on Shinzo's mind. We talk about it often … and we're going to do everything possible to have them brought back, and bring them back to Japan. I gave you that promise."
Earlier this week, Abe spoke to Moon about the South Korean president's plans for his summit meeting with Kim to be held this Friday. According to the South Korean readout, Abe indicated that if the Moon-Kim and Trump-Kim summits were successful they could pave the way for Japan and North Korea to pursue dialogue, too. During the 40-minute call, Moon said he would "would forward Prime Minister Abe's position during the summit" and would suggest to Kim "that solving the issue of Japanese abductees would be of help in establishing peace in northeast Asia."
Ri, the Korea University professor, suggested that it would be better for Japan to raise the abduction issue directly through bilateral negotiations with North Korea, rather than asking others to raise it on its behalf. However, he seemed to concede that a closer look at the fate of the abductees may not present North Korea in a flattering light, and could yield "sad" news. "I believe that if, for example, a reinvestigation into this issue were to be implemented from now and results of this were to be reported to the Japanese government by the DPRK [North Korea], this could lead to a severe negative impact on the Japanese public opinion in regards to the DPRK, which could also impact further negotiations or developments between the two countries."
In broader remarks, Ri made clear that a North Korean priority in the forthcoming summit meetings would be ending "the armistice regime" and concluding a peace treaty to formally end the Korean war. He acknowledged there were different views about the meaning of denuclearization: while Western countries largely used the term to refer to North Korea abandoning its nuclear weapons, he said, Pyongyang's focus was on denuclearization of the Korean Peninsula more generally. There was "space for a negotiation in regards to the issue of U.S. troop presence on the Korean peninsula," Ri added. The comments indicate the difficulties the United States and others will face in reaching a comprehensive deal with North Korea. The Japanese government has been strongly arguing for complete, verifiable, and irreversible denuclearization and has offered funding for nuclear inspections.
In a separate press briefing, Narushige Michishita, a professor at Japan's National Graduate Institute for Policy Studies, said that "when we see some substantive progress on nuclear issues, Japan should consider initiating dialogue or negotiation with North Korea." Michishita told an audience at the Foreign Press Center Japan on Monday that Japan should not seek a "big deal because a big deal has a high probability of failure." A more sustainable and realistic approach would be to try to bring a smaller number of abductees back in stages. "Rather than trying to seek the big deal and then get bogged down in a standstill, we should consider how we can move forward steadily, even slowly, in small steps."
Michishita also reflected on the perception that Japan was being sidelined in the current negotiations. He said in the short run, from a tactical point of view, Japan was not playing a significant role in the recent developments although he would not call Tokyo isolated or left behind. However, Michishita said from a longer term strategic point of view Japan was an important negotiating partner for North Korea: "What Japan should do is to implement dialogue at the pace in line with the progress of denuclearization."