Japan Activates Amphibious Rapid Deployment Brigade
Japan activates its equivalent of a marine unit for the first time since World War II.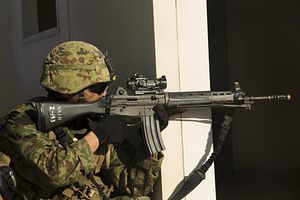 On Saturday, the Japanese Self-Defense Forces activated their newly created Amphibious Rapid Deployment Brigade (ARDB) — a military unit roughly analogous to an amphibious rapid response marine unit in other militaries.
The ARDB will enhance the ability of the Japanese military to defend contested islands, particularly in the East China Sea, where Japan fears a future conflict with China. The two countries dispute sovereignty over the Senkaku/Diaoyu Islands, which Japan administers.
The SDF's first ARDB, comprising roughly 2,100 troops, was inaugurated in a ceremony near Sasebo on Saturday.
"Given the increasingly difficult defense and security situation surrounding Japan, defense of our islands has become a critical mandate," Japanese Vice Defense Minister Tomohiro Yamamoto said in a speech.
The ARDB will be placed under the Japan Ground Self-Defense Force (GSDF) Ground Component Command, which was also a recent creation. The GSDF's new command was created in the final week of March 2018.
According to Japanese Defense Minister Itsunori Onodera, the ARDB will be primarily geared toward defending Japan's remote islands with its amphibious capabilities.
Moreover, the ARDB will play an important role in humanitarian assistance and disaster relief in Japan, improving the ability of the Japanese armed forces to respond to natural disasters.
In 2011, after the Tohoku earthquake and tsunami that devastated much of northeastern Honshu, the SDF's lack of a robust amphibious response capability stunted rescue operations.
Tensions between China and Japan over the disputed Senkaku Islands have spiked since 2012, when the Japanese government decided to nationalize the disputed islets to prevent their acquisition by the nationalist former governor of Tokyo.
In the years since, China has tested Japanese administration of the disputed islands by regularly sending coast guard and naval vessels to the territorial sea and contiguous zone surrounding the islands.
In 2014, former U.S. President Barack Obama confirmed that the United States would honor its mutual defense obligations to Japan in the event of a conflict over the disputed islands — an assurance that was repeated by current U.S. Secretary of Defense Jim Mattis in February 2017.
The U.S. Marine Corps trained with members of the Japanese GSDF that eventually came to comprise the ARDB in recent years, imparting expertise and tactical best practices. The allies have also rehearsed combined amphibious operations.
Since 2006, the two sides have participated in Exercise Iron Fist, which focuses on joint amphibious operations.