Kazakhstan's Energy Company Continues to Borrow to Survive
A recent Eurobond issue piles up on Kazmunaigas' debt, signaling just how dependent Kazakhstan's oil and gas giant is on borrowed capital.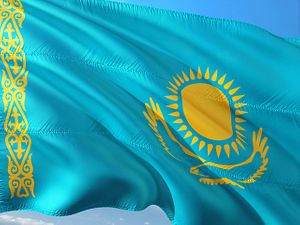 Kazmunaigas, Kazakhstan's national oil and gas company, placed $3.25 billion in Eurobonds in mid-April, increasing the scale and the span of its debt portfolio. The company partially restructured its outstanding debt through a trade that essentially extended the deadline. Kazmunaigas' inability to close the books signaled its continued dependence on financial backing to sustain its large structure and ready its company for a prospective partial privatization.
With the recent issue, Kazmunaigas one-upped its $2.75 billion debt issue from last year, which was dubbed the largest corporate bond from the Commonwealth of Independent States since 2014. Concretely, however, the company mostly restructured its existing debt. At the beginning of April, Kazmunaigas and its financial arm tendered a majority of their outstanding $5.25 billion, so that creditors could be paid back early. Creditors solicited the repayment of $2.96 billion, which the company plans to pay through the latest bond issue.
Highlighting the scale and scope of the issue, Arnat Abzhanov, CEO of Halyk Finance, the financial arm of Halyk Bank and bookrunner for Kazmunaigas, said the deal was "a critically important and complex project: the early redemption of [Kazmunaigas'] outstanding Eurobonds backed by their timely replacement with new longer-term issues."
In March, Kazmunaigas posted positive financial results for 2017, with revenue growing by 32 percent year-on-year and oil and gas condensate production increasing by 3 percent compared to 2016. The main drivers for the company's encouraging budget were an increase in the average price of Brent oil in global markets and a spark in production, particularly from the Kashagan offshore oil field, which Kazmunaigas owns together with other international companies.
Kazmunaigas also posted higher costs, mostly linked to increased oil trading related to a $3 billion deal it signed with Vitol, a Geneva-based commodity trader, at the end of 2015. Vitol essentially paid in advance for future oil supplies from Kazmunaigas. Within the framework of this agreement, Kazmunaigas draws oil from Kashagan and Tengiz, Kazakhstan's largest fields. As oil prices and production at Kashagan and Tengiz have increased since the agreement was signed, Kazmunaigas has been able to trade higher quantities, which could allow for a successful redemption of its complex debt with Vitol, which is now rumored to grow up to $5 billion.
In 2015, Kazmunaigas seemed on the brink of collapse. Before it received $3 billion from Vitol, it sold a 50 percent stake in its subsidiary KMG Kashagan B.V., which owned a 16.81 percent stake in the consortium developing Kashagan. The buyer, surprisingly, was Kazakhstan's Central Bank, which paid $4.7 billion for the stake. The cash injection was necessary to pay back some of the debt the company had accrued through the years.
In March this year, Reuters reported that Samruk-Kazyna, the government holding that owns Kazmunaigas, had laid out a proposal to Shell to buy a 10 percent stake in Kazmunaigas in an effort to make it more attractive for a prospective IPO. Rothschild, a Paris-based investment bank that advises Kazakhstan's Central Bank, said that welcoming foreign investors in the company ahead of the IPO would have positive effects.
"In our view, pre-IPO sales could be done this year while actual IPOs – some time later," Giovanni Salvetti, head of Rothschild's Russia and CIS department, told Reuters.
Undoubtedly, the presence of transnational companies in the capital and board of Kazakhstan's national companies would render them more attractive to foreign investors. The government now hopes that the transactions can be successful.
Observers of Kazakhstan's economy, however, are worried that the state budget might be the ultimate loser of these exchanges.
"There is no way that Shell will match the $4.7 billion that the Central Bank paid for the Kashagan stake in 2015. And the Central Bank will certainly be unwilling to take the loss, so it will be again on the shoulders of Kazmunaigas. The spiral of debt will continue," one analyst told The Diplomat on condition of anonymity.
Kazmunaigas' fully-owned oil fields and refineries continue to post losses, while the major oil fields, in which the company participates through stakes in international consortia, are flourishing. This presents a conundrum before the company's management in Astana: being the national company, Kazmunaigas also has a social responsibility towards employment and services in the oil regions of the country. "Until Kazmunaigas continues to have this double role, it will not be able to play by the rules of the market," an oil and gas journalist told The Diplomat. But as long as investors continue to be hungry for risky debt, Kazmunaigas will always have the option to borrow to survive.