Kazakh President Sets Ambitious Goals for Renewables
The question for the future development of renewable energy sources is whether the goals are, in fact, too ambitious.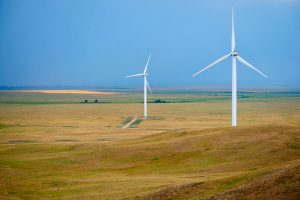 During a ministerial meeting, Kazakhstan's President Kassym-Jomart Tokayev set a new, ambitious objective to increase the proportion of renewable energy sources (RES) in the country's energy mix, a move that would entail significant policy changes for Kazakhstan's future.
On May 26, Tokayev ordered his government to take measures to hasten the pace toward renewables representing a 15 percent share of electricity generation, on the backdrop of new, favorable conditions for green energy.
For Tokayev, the "extremely small" weight of RES in Kazakhstan's electricity generation has room to grow.
The day before his order, Tokayev addressed the U.N.-sponsored High-Level Global Roundtable on Extractive Industries, promising "smart policies and investments" to "chart a path towards a greener global economy."
Back in 2014, during a meeting with Russia's President Vladimir Putin, then-President Nursultan Nazarbayev said that he had little faith in RES.
"I personally do not believe in alternative energy sources, such as wind and solar," Nazarbayev said, reversing in just one sentence his earlier pledge to sped 1 percent of GDP annually to foster energy transition.
The "green economy" was also the core concept of EXPO-2017, held in the capital Astana (renamed Nur-Sultan in 2019.) At the time, however, the green energy propaganda around EXPO-2017 was dismissed as "only cosmetic," or a "squandering" of public money. In 2017, a World Bank report called the government goals "overly ambitious."
With his fresh commitment, Tokayev seems to want to reverse the "old course."
"I am a firm supporter of clean energy and green technologies as a whole," Tokayev told the press.
While significant in terms of growth rate, from less than 1 percent in 2014 to just above 1 percent in 2017, then 2 percent in 2019, and 3 percent in 2020, RES are still far from being a key building block of the country's energy system, which still relies on coal, oil, and gas. 
Among the analysts, skeptics have said that "it is too early for Kazakhstan to jump all the way to renewable energy."
In comparison, in 2019 the countries of the EU depended on RES for an average of 20 percent of their final energy consumption.
The 15 percent goal set by Tokayev would be an improvement over the goal set just two years ago of reaching a 10 percent renewable share by 2030.
Yet, it seems that the goal of reaching the latest ambitious objective hinges on the participation of the private sector and extractive companies.
In December 2020, the government adopted measures to facilitate the trade of electricity generated via RES across the grid. One of the objectives was to grant more power to the government-owned Financial Settlement Centre for Renewable Energy Sources, an investment hub for RES.
Between March 2020 and March 2021, Italy's oil and gas major ENI launched commercial operations at a 50 MW wind farm in the northern region of Aktobe and started construction at a solar power station in the southern region, near Turkestan.
In February, Tokayev had met with the local head of the recently-rebranded French oil and gas giant, Total, for a discussion centered around green energy transition. Just weeks later, Tokayev presented his plans for bolstering renewable energy to the National Council of Public Trust, a platform in which the government meets some representatives of civil society.
"[Alternative energy sources are] a critically important sector that will determine the future of Kazakhstan," Tokayev said at the margins of the meeting.
Given the vast potential for RES, the key for policymakers is to attract interest to install new capacity across the regions and near the inhabited settlements that dot the Kazakh steppe.
In the meantime, the top job at the department for renewable energy at the Ministry of Energy is vacant. To paraphrase an earlier piece here at The Diplomat, every year seems to be "too early to tell how green can the steppe become."