Malaysia Spotlights Expanded Sulu Sea Trilateral Patrols
The Southeast Asian state has called for a widening of collaboration this front in recognition of the challenges it faces and the opportunities before it.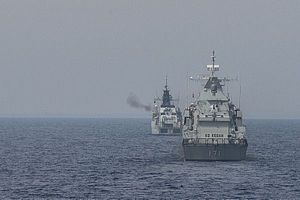 This week, in remarks to a security forum, Malaysia's defense minister called for the expansion of ongoing trilateral cooperation between Malaysia, Indonesia, and the Philippines with respect to the Sulu Sea. Though his remarks came as little surprise given the shape of collaboration underway, it nonetheless once again put the spotlight on an example of subregional cooperation in Southeast Asia in the wake of growing security challenges.
As I have noted before, trilateral patrols in the Sulu Sea had been discussed as early as 2016 but finally began to take shape as the Trilateral Cooperative Agreement (TCA) in 2017, with maritime patrols launched in June after multiple delays, air patrols taking off subsequently in October, and the gradual integration of Singapore and Brunei as observer countries as well (See: "What's Next for the Sulu Sea Trilateral Patrols?"). Though details such as hubs for operation in each country and rotations for patrols had subsequently been revealed and there have been some indications of reduced security incidents, there have also been delays on other indicators of progress as well.
The opening session of the 5th Putrajaya Forum, a regional security forum, which saw Malaysia's Defense Minister Hishammuddin Hussein speak in the presence of several other Southeast Asian colleagues, provided an opportunity for him to address cooperation in the Sulu Sea in the context of Malaysia's view of security challenges in the region and ongoing collaboration to address them.
Hishammuddin's remarks predictably addressed a range of security challenges Malaysia faced but focused mostly on the threat of terrorism (See: "ASEAN's Post-Marawi Islamic State Challenge"). He delved into the various ways through which the Islamic State and other related terrorist groups could pose a threat to Southeast Asian states, be it turning vulnerable populations against the state, encouraging lone wolf attacks including suicide bombings, and perhaps even tapping into grievances at play in insurgencies in southern Philippines and southern Thailand.
But Hishammuddin also touched on the Sulu Sea trilateral patrols as well, noting both the challenges and the opportunities inherent there for Malaysia. The challenge aspect of that has been well-known within the context of not just the wide range of transnational crimes, but eastern Malaysia and the status of Sabah, one of the Southeast Asian country's 13 states and one of two on the island of Borneo. Sabah has been a sensitive subject for Malaysia for various reasons, including its geographic separation from peninsular Malaysia, the historical dispute with the Philippines which dates back decades, and lingering security concerns.
Concerns on this front were once again heightened in 2013 with over 200 descendants of the sultanate attempting to assert the Philippine claim to Sabah left dozens dead in the Lahad Datu incident. Philippine President Rodrigo Duterte's previous comments on Manila's Sabah claim have also not proved useful, even though the overall bilateral relationship has since been stabilized. In his remarks, Hishammuddin chose to focus on Moro National Liberation Front's (MNLF) leader Nur Misuari's dream of a caliphate in the Sulu Sea to make this point, arguing that this means Malaysia cannot "take our eyes off this area anytime soon."
But he also framed the Sulu Sea as an opportunity for subregional cooperation already underway in common maritime areas. Bluntly noting that subregional collaboration was necessary given the limits of wider multilateral cooperation in ASEAN, Hishammuddin said that collaboration between the "3 Plus 2" countries must be widened and that a coordinated network of patrols on "a wider scale" needed to be put in place as well because no single country could address these challenges on its own.
Of course, few would disagree with Hishammuddin's arguments, and the real test remains how exactly collaboration can move forward on this front. Even some of the more basic elements of trilateral cooperation have taken longer to put in place than was initially conceived, and there are real challenges that affect how quickly that collaboration can progress independent of the desires of individual members  (See: "Confronting Threats in the Sulu-Sulawesi Seas: Opportunities and Challenges"). Nonetheless, his remarks were yet another testament to the significance that Malaysia attaches to such cooperation despite the obstacles that remain.