Tejas Fighter Jets Participate in India's Biggest Air Combat Exercise
An Indian Air Force combat drill for the first time included the service's entire fleet of Tejas Light Combat Aircraft.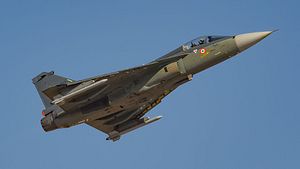 This year's 'Gaganshakti-2018' military exercise–the Indian Air Force's (IAF) largest aerial combat drill to date involving over 1,100 aircraft and 15,000 military personnel–for the first time saw the participation of the service's entire operational fleet of Tejas Light Combat Aircraft (LCA), the Indian Ministry of Defense (MoD) said in a statement last week.
"This exercise is (…) unique as LCA our indigenous fighters are being deployed at forward bases," an April 11 MoD statement reads. "During the first phase of the exercise, today all the deployed LCA aircraft had participated. The operational efficiency and mission worthiness of these platforms would be put to test in a real time intense exercise environment." The MoD did not reveal how many LCA took part in the exercise.
The Tejas LCA is a supersonic, single-seat, single-engine multirole light fighter jet that has been under development since 1983 by India's Aeronautical Development Agency state-owned Hindustan Aeronautics Limited (HAL). As of December 2017, a total of 20 Tejas LCA have been handed over to the IAF including four trainer aircraft. 15 additional Tejas LCA are expected to be produced in 2018. (The ninth IAF Tejas LCA completed its maiden flight in March.)
HAL has been working on an improved variant of the Tejas, designated Tejas LCA Mark-IA, featuring various upgrades to the original aircraft including an advanced active electronically scanned array (AESA) radar system, a new electronic warfare sensor suite, and a new externally refueling capability. As I reported in February:
The Indian Air Force (IAF) issued a tender to HAL in December 2017  for the procurement of 83 Tejas Light Combat Aircraft including 73 single-engine Tejas LCA Mark-IA and 10 tandem two-seat LCA trainer aircraft. The IAF plans to induct a total of 123 Tejas Mark-IA, next to 40 Mark-I Tejas LCAs. HAL is currently increasing production capacity from eight to 16 aircraft per year, although as of this month, the company has failed to meet the target of producing eight Tejas LCA per annum.
HAL is also working on a more advanced Mark-II variant, which will feature a powerful engine, next to the upgrades found on the Mark-IA version of the aircraft. Overall, the IAF reportedly intends to induct a total of 324 Tejas LCA of all variants divided up into 18 squadrons. However, no contract between HAL and the IAF for additional aircraft has been signed yet.
During the exercise, which kicked off on April 11 and is slated to continue April 23, Tejas LCA deployed short-range and I-Derby beyond-visual-range air-to-air missiles, next to air-to-ground weapons. Gaganshakti-2018 is the IAF's largest military exercise to date and is meant to simulate aerial combat with China and Pakistan. The exercise involves long-range bombing exercises, airborne assault operations, maritime air operations, and a mass casualty evacuation.
"Concepts of accelerated operations, network-centric operations, long-range missions with concentrated weapon releases across all air-to-ground ranges in India, inter-valley troop transfer, flexible use of airspace, joint maritime air operations with the Navy, joint operations with the Army, simulated combat search and rescue for effective extraction of downed aircrew behind enemy lines, special operations with Garuds, mass casualty evacuation from highway and ALG (advance landing ground) operations, to name a few, [will] be tested," the IAF said in a statement about Gaganshakti-2018.