The Plight of Traditional Fishermen in Indonesia
Indonesia's vast maritime space is hotly contested between modern and traditional fishermen.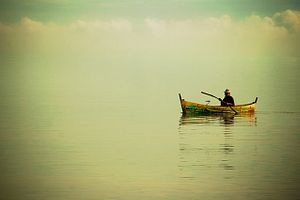 Indonesia is one of the largest maritime nations in the world. As such, it has considerable potential to capitalize on its marine resources, including fisheries, salt, as well as marine transportation facilities and tourism. According to Indonesia's Central Agency for Statistics (BPS), however, the contribution of the fishery sector to gross domestic product (GDP) is fairly small. The Jakarta Globe reported last year that in 2016, fisheries contributed just 8 percent of Indonesia's gross domestic process.
The vastness of the sea and its great potential does not guarantee the welfare of its economic actors. Traditional fishermen are still associated with poverty and underdevelopment. There are many problems experienced by traditional fishermen, including a lack of skills, limited facilities, and extreme competition. Conflict between fishermen has not been a special concern for the government, even though when it is not handled properly it can have serious results.
In the spirit of National Fishermen's Day last week on April 6, we should reflect on the interests of traditional fishermen in various development policies in Indonesia.
Competition at Sea
Various conflicts have emerged among fishermen in several regions of Indonesia, including the North Coast of Java, Papua, and Riau. Frictions occur between traditional and modern fishermen who have different methods and capabilities. Having ships with larger capacity and greater range, modern fishermen are able to catch more fish and reach a wider area.
The decreasing number of fish due to overfishing causes some  modern fishermen, intentionally or not, to enter areas that are usually fished by traditional fishermen. This situation is a frequent factor causing conflict among fishermen as traditional fishermen are squeezed out of their usual fishing grounds. Such conflicts often result in some material losses, such as damage to boats or buildings caused by riots, or injuries. In some cases, people have had to evacuate areas due to clashes stemming from fishing disputes.
Potential conflicts over fishing grounds among fishermen can be predicted to continue as long as there is no marine zoning regulation or enforcement. There is a division of authority related to fisheries in 2014's Law no. 23 on Local Government. Nonetheless, the rules only discuss the scope of local government authority, not that of fishermen. The Management and Zoning Plan of Coastal Zones and Small Island Islands (RZWP3K) should serve as a detailed guideline for the utilization of space at sea. Unfortunately, the RZWP3K is still in the process of drafting.
The absence of zoning rules makes fishing activities uncontrolled and exploitative. The absence of strict regulations ignites competition among fishermen, with modern fishermen more capable and traditional fishermen not protected by zoning or regulations.
The Need for Certainty
Indonesian President Joko Widodo should urge the Ministry of Marine Fisheries to finalize the RZWP3K. This will also support his Nawacita policy on maritime power, which he promoted after his inauguration. The document can also serve as a forum for relevant stakeholders to lay out their perspectives and needs so that the marine management policy is more comprehensive. To date, there are still many policies that are partial and conflicting between ministries.
RZWP3K could become a kind of guarantee for traditional fishermen in their activities. They will no longer have to worry when encountering modern fishermen because there would be a zone division. Imposing sanctions and fines in the document will minimize violations of the fishing area. Another benefit is that fish can be preserved, considering the life cycle of fish breeding. This will create a sense of security and comfort for all parties to pursue activities in the sea. The hope is that there will be no more inter-fishermen conflicts in the future. Let us make the sea a source of life, not disputes.
Muhammad Zulfikar Rakhmat is a Ph.D. Researcher at the University of Manchester, U.K.