Turkish President Erdogan Urges Kyrgyzstan to Join Fight Against Gulen
Kyrgyz President Jeenbekov did not respond directly to Erdogan's urging to deal with Gulen-linked institutions.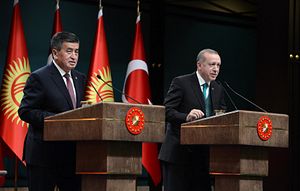 Kyrgyz President Sooronbay Jeenbekov arrived in Turkey on Monday for a two-day state visit, his first outside the the former Soviet Union since assuming office in November 2017. Turkish-Kyrgyz bilateral relations suffered over the last two years under Jeenbekov's predecessor Almazbek Atambayev, in large part because of Turkey's pressure on Kyrgyzstan to stamp out all remnants of the Gulen movement in the country.
After meeting with Jeenbekov, Turkish President Recep Tayyip Erdogan continued to hammer the Gulen issue, urging Kyrgyzstan to take action.
Jeenbekov, whose recent personnel changes have led some regional watchers to declare a widening rift between the president and his predecessor, took a full complement with him to Ankara. The Kyrgyz delegation included Minister of Foreign Affairs Erlan Abdyldaev; Minister of Economy Artem Novikov; Minister of Agriculture Nurbek Murashev; Vice Prime Minister Sanjar Mukanbetov and two parliamentary deputies, Almazbek Baatyrbekov of the Kyrgyzstan Party, part of the ruling coalition, and Akylbek Zhamangulov of the opposition Respublika-Ata Jurt party. The delegation also included the ambassador of Kyrgyzstan to Turkey, Ibrahim Zhunusov, and several other Kyrgyz officials.
Jeenbekov called his discussions with Erdogan "constructive and fruitful." The two side signed several memorandums of understanding on a variety of issues from investments and agriculture to sports and social security.
But the highlight of the public statements was Erdogan's comment about what Turkish authorities refer to as the Fetullah Terrorist Organization (FETO).
Ankara has accused U.S.-based cleric Fethullah Gulen, once upon a time an Erdogan ally, of plotting the July 15, 2016 unsuccessful coup. Gulen founded a movement which has, among other things, built and staffed hundreds of schools around the world. Once a key aspect of Turkish soft power, these schools have become lightning rods in Turkey's various contemporary bilateral relationships. As we've covered here at The Diplomat, in Central Asia such Gulen-affiliated schools filled a critical educational gap following the collapse of the Soviet Union. Each state has reacted differently to Turkish demands to shut the schools.
The downturn in Turkish-Kyrgyz relations stemmed largely from then-President Atambayev's obstinance in the face of Ankara's warning in late July 2016 that the Gulen network, supported by the United States, would stage a coup in Kyrgyzstan. Foreign Minister Mevlut Cavusoglu told CNN-Turk television at the time, "In Kyrgyzstan, for example, there could be an attempt to launch a coup… If there is a coup in Kyrgyzstan then it will be carried out by FETO."
Kyrgyzstan had two revolutions in less than a decade, in 2005 and 2010, and is no stranger to wild coup accusations.
Atambayev, however, responded with derision, saying "If Turkey is so smart, why did it miss a coup?"
But now Atambayev is out of office and Erdogan's tune remains the same.
"We made clear our expectations from Kyrgyzstan in the fight against FETO," Erdogan said after talks with Jeenbekov, according to the AFP. "It is such an organization that it has the character to do the same to Kyrgyzstan tomorrow what it did to us today," he said, repeating the rhetoric of 2016 anew. He then commented that he believed Jeenbekov "will act more shrewdly and take the needed measures more rapidly."
Jeenbekov, RFE/RL's Kyrgyz service reports, did not officially respond to Erdogan's Gulen comments but did emphasize his desire to strengthen relations with Turkey.
The network of Turkish schools in Kyrgyzstan, known previously as Sebat lyceums, were renamed and reregistered last year — they were not closed as has happened in Tajikistan and Turkmenistan. Turkish media in 2016 reported that a Gulen-linked foundation operated 28 schools in Kyrgyzstan, ranging from primary schools to a university in Bishkek.
Kyrgyzstan's ambassador to Turkey hedged when asked by RFE/RL about Erdogan's comments, saying that Ankara's warnings must be "perceived properly." He seemed to be saying that Bishkek takes Ankara's warnings in good faith, rather than as outright meddling.