Thailand-Brunei Defense Relations in the Headlines With Military Chief Visit
The recent trip spotlighted the ongoing activity between the two sides in the defense realm.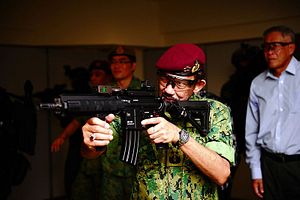 Last week, Thailand's defense chief embarked on an introductory visit to Brunei. While the trip was just the latest in a series of ongoing interactions between the two fellow Southeast Asian states, it nonetheless put the spotlight on the state of the defense aspect of their broader bilateral relationship amid domestic and regional changes at play within the two countries as well as in the wider region.
As I have noted before in these pages, Thailand and Brunei share a bilateral relationship that extends to the security domain as well. Defense ties include not just interactions between the two countries directly, such as visits and exchanges, but also multilateral ones, including within the framework of ASEAN and ASEAN Plus mechanisms.
That has continued on into 2018 as well. In August, the commander of the Royal Brunei Armed Forces (RBAF) paid his first visit to Thailand after assuming his post in February as part of some wider domestic changes in the Southeast Asian sultanate. And just a few weeks ago, in a continued demonstration of the interactions between the monarchies of the two countries, Thai Princess Sirindhorn was in Brunei on a two-day study visit with a group of cadets from the Chulachomklao Royal Military Academy of Thailand.
This month, the defense relationship was in the headlines once again with the Brunei visit of Ponpipaat Benyasri, the chief of defense force of the Royal Thai Armed Forces (RTAF). Ponpipaat was on his introductory visit to Brunei from November 21-22 just after he officially assumed his current position on October 1 following a military reshuffle in Thailand, and months before planned elections that would return Thailand to democratic rule after multiple postponements by the ruling junta.
During his visit, Ponpipaat met with a range of Brunei defense officials, including the Commander of the Royal Brunei Armed Forces as well as Sultan Hassanal Bolkiah himself, who still holds the defense minister portfolio in Brunei. Brunei's defense ministry said the meeting occurred in the context of defense aspects of ties being a hallmark of the wider bilateral relationship, as evidenced by recent engagements, and that both sides highlighted some of those ongoing activities during their interactions.
Unsurprisingly, few additional details were publicly disclosed about what was discussed during those meetings. Nonetheless, particular aspects of bilateral security cooperation, such as counterterrorism and maritime security, are worth monitoring closely amid wider changes taking place within both these countries as well as in the broader region through this year and beyond.