Why Pakistan Is TAPI's Biggest Hurdle
The pipeline would bring substantial benefits to all 4 member countries. For Pakistan, that's exactly the problem.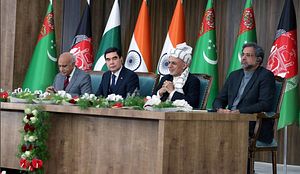 The Turkmenistan-Afghanistan-Pakistan-India (TAPI) gas pipeline is unarguably one of the biggest energy projects in the region. The planned pipeline has a total length of 1,814 kilometers: 214 km in Turkmenistan, 774 km in Afghanistan, and 826 km in Pakistan to reach Fazilka on the India-Pakistan border. The project is planned for 30 years, with a total estimated cost of $9.9 billion. The pipeline would have the capacity to supply 33 billion cubic meters (bcm) of gas from the world's fourth-largest natural gas reserves in Daulatabad of Turkmenistan; Pakistan and India would receive 42 percent each with 16 percent going to Afghanistan. In addition to receiving 5.22 bcm of gas annually, Afghanistan would get around $400 million each year from transit revenue.
The construction of the Turkmen section of the pipeline started in December 2015 while the Afghan section was launched on February 23, 2018 in the Afghan province of Herat in a ceremony attended by the Afghan and Turkmen presidents, India's minister of state for external affairs, and the prime minister of Pakistan.
The project is undeniably significant for the member countries and the region. TAPI has the  potential to solve the energy woes of Pakistan and India, while providing much-needed diversity for Turkmenistan's energy exports and income for Afghanistan. However, political will and a shift in regional outlook will be a prerequisite for TAPI's successful conclusion, given the dichotomous geostrategic stance of member countries.
Turkmenistan is blessed with abundant natural gas reserves. Dauletabad natural gas field is considered the largest in the country and one of the largest in the world. However, the country's natural gas exports have a bumpy track record. Turkmenistan has struggled to boost its exports, leaving China, Iran, and Russia as the key destinations for Turkmen gas. And challenges have been on the rise. Russia stopped purchases of Turkmen gas in early 2016, apparently due to a price conflict, while supply to Iran was stopped in early 2017 due to a payment dispute. That leaves China as the only destination for Turkmen gas.
Turkmen gas travels to China through three pipelines — namely A, B, and C — via Uzbekistan and Kazakhstan. In order to boast the gas supply, Chinese President Xi Jinping approved a fourth line, Line D, in 2013, which was supposed to deliver 30 bcm gas annually to western China via Uzbekistan, Kyrgyzstan, and Tajikistan. However, construction work turned turbulent and was officially suspended in March 2017 due to disputes among member countries. This was a major blow given the fact that Turkmenistan's economy is heavily reliant on natural gas exports. Given the circumstances, TAPI remains a top priority to serve Turkmenistan's economic needs.
With TAPI in place, Pakistan would be a key consumer of Turkmen gas. Pakistan has long suffered from energy shortage problems affecting households and businesses alike. This is the reason why the gas and electricity supply has become an integral part of political parties' election manifestos. In Pakistan, natural gas is used for domestic, commercial, as well as electricity generation purposes. As per a recent study to assess Pakistan's overall energy potential, gas production in the country is around 4 billion cubic feet per day (bcfd) while the demand is around 6 bcfd. Further, production capacity is expected to fall to less than 1 bcfd by 2025 as gas reserves are depleted while demand will soar to 8 bcfd. TAPI would fill the gap to a great extent.
Pakistan's energy shortage has resulted in gas and electricity outages, which hurt key sectors, particularly textiles. Between 2008 and 2012, 40 percent of Pakistan's textile sector shifted to Bangladesh, mainly due to high prices and the uneven supply of gas and electricity. The problem continues today. According to the Pakistan Textile Export Association (PTEA), the price of gas in Bangladesh is $3 per million British thermal units (mmbtu); in Vietnam it's $4.2/mmbtu; and in India $4.5/mmbtu. However, in Pakistan, gas was available at $7.6/mmbtu as of December 2017. The PTEA says that the government decision to supply regasified liquefied natural gas (RLNG) to the textile sector would raise that cost to $11/mmbtu. The energy shortage, then, has wide-ranging economic implications, including a significant increase in production costs, leading to a decrease in exports and a widening trade deficit, which reached a record height of around $32 billion last fiscal year.
The final destination of pipeline is India, which is among the fastest growing major economies in the world. Like Pakistan, India needs to import fuel to address its growing energy needs. In the last fiscal year (April 2017- March 2018), India's oil imports increased by 29 percent to reach an estimated $85-90 billion; not surprising as India is ranked among top three oil importers globally. Apart from oil, the demand for natural gas is on the rise due to its environment friendly nature, economic efficiency, as well as its usage in the fertilizer and power sectors, which combined consumed over 60 percent of the total amount.
At present, natural gas accounts for 6.5 percent of India's energy mix. New Delhi aims to more than double that, bumping it to 15 percent, by 2022. India already imports 8.5 million tons of LNG from Qatar annually to meet its domestic demand. In early March 2018, India began to import 3.5 million tons of LNG a year from United States as part of 20 year agreement signed back in December 2011. TAPI will provide another option for an energy-starved India.
In the light of the export expansion efforts of Turkmenistan and dire energy woes of India and Pakistan, the project is unarguably of significant economic importance. However, such mega regional initiatives bear the brunt of differences in political and geostrategic priorities. As such, the regional outlook of Pakistan — which contradicts those of Afghanistan and India — will have implications for the success of the project. Pakistan's quest for strategic depth, the obsession with turning Afghanistan into a subservient state, is the motivation behind Islamabad's support for militant groups and interference in Afghanistan for decades. TAPI would run counter to that by empowering a self-sufficient Afghanistan.
The fact that Afghanistan would receive transit revenue and natural gas from TAPI is only tip of the iceberg. A fully operational TAPI gas pipeline would open the gates for other new regional connectivity, trade, and transit projects, like the Central Asia South Asia (CASA) 1000 electricity transmission line, an expanded Lapis Lazuli Corridor, and Five Nations Railway Corridor among China, Iran, Afghanistan, Tajikistan, and Kyrgyzstan (to name only a few). Following the inauguration ceremony of TAPI, the TAP-500 power project agreement was signed, which would transmit 500 kilovolts of energy from Turkmenistan to Pakistan via Afghanistan. As such, TAPI would pave the way for regional projects that would enable Afghanistan to realize its true potential as a regional trade and transit hub, connecting Central Asia with South Asia and the Middle East.
On the other hand, India's close relationship with, support for, and investment in Afghanistan are interpreted negatively by Pakistan, which has expressed concerns from time to time. As such, regional projects that would provide strategic gains to both India and Afghanistan would face stiff opposition. The Chabahar port project, another project benefiting both India and Afghanistan, is a useful example here. The project faced stiff challenges when the construction of the 215 km Zaranj- Delaram road, which connects the Kabul-Herat highway to the road that leads to Chabahar port on the Iranian border, got under way on Afghan soil. The road construction was fiercely opposed by the Taliban and the fighting claimed the lives of six Indians and 129 Afghans; approximately one human life for each 1.5 km of road. The Taliban opposition did not come as a surprise since Chabahar port serves as a gateway for India to reach Afghanistan and Central Asia, and strategically competes with Gwadar port in Pakistan, which is being developed with support from China.
The case of the Zaranj-Delaram highway in Nimroz province highlights the influence of the Taliban and the resulting security challenges in west and southwest Afghanistan, through which the TAPI pipeline would pass. However, in the case of TAPI, Pakistan has assured its support for the project. Just ahead of the inauguration ceremony in December 2015, the then-Minister of Defense as well as Minister of Water and Power (simultaneously) Khwaja Asif stated that Pakistan would use all its influence over the Taliban to ensure TAPI's security. The statement is plausible, but the question remains whether Pakistan would use its influence to support a regional project that offers strategic gains to Afghanistan and India while Islamabad's regional policy of "strategic depth" remains in place.
In this context, the future of TAPI will depend on Pakistan's political will and a shift in its regional outlook. Hence, the critical "P" in TAPI will decide the destiny of a project that can not only bring prosperity for member countries but also open the gates for future mega-projects that would ensure prosperity for the entire region.
Shoaib A. Rahim is a development practitioner, lecturer in international economics, and a regular contributor to national and international media about the political economy of Afghanistan and the region. Rahim holds an MSc. Degree in Development Economics from University of Sussex, England. Follow him on Twitter: @ShoaibBinRahim