Why the Kim-Moon Summit at Panmunjom Matters
The summit between the two Koreas will set the tone for the Trump-Kim summit.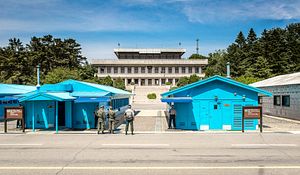 In a matter of months, the nuclear crisis on the Korean peninsula has pivoted from brinkmanship towards diplomacy.
In February, at the Winter Olympics in Pyeongchang, South Korean President Moon Jae-in decided to gamble with North Korean leader Kim Jong-un's diplomatic overture a month earlier.
Now, the two leaders will meet at Panmunjom, on the demilitarized zone separating their two countries, for the third ever inter-Korean summit.
This summit will be the first of its kind outside Pyongyang, forcing Kim to leave North Korean soil to meet his South Korean counterpart.
Moon, acutely aware of the history of failed inter-Korean diplomacy, and himself having been part of former South Korean president Roh Moo-hyun's administration, is keenly on the lookout for tripwires that could harm South Korean interests – or so Seoul would have us believe.
In fact, since his inauguration, Moon has had eventual engagement with North Korea on his mind. Yes, North Korea's successful launch of the Hwasong-12 missile just days after Moon entered the Blue House presidential residence made this agenda difficult, but now South Korea has an opportunity.
Unlike Roh, Moon has the benefit of entering an inter-Korean summit early in his term, giving him time to see out the implementation of any agreement that may emerge from Friday's historic meeting.
To make sure the summit takes place – and with the blessing of the less diplomatically inclined administration currently in power in the United States – Moon and his top envoys have been eager to speak on behalf of Kim.
For instance, in early March it was Moon's National Security Advisor Chun Eui-yong who returned from a historic visit to Pyongyang and announced that North Korea was ready to put its nuclear weapons program on the table.
Denuclearization – that all-important word that means one thing to North Korea and another to the United States – will ultimately be the immediate focus of the upcoming inter-Korean summit.
Although unlikely, the gold standard for a summit outcome – one that would satisfy all members of the erstwhile six-party talks – would be a reaffirmation of the 2005 joint statement on the denuclearisation of the Korean peninsula.
That sort of an affirmation is something of a pipe dream today, given that North Korea has considerably fleshed out its nuclear forces, which Kim just days ago described as the country's "treasured sword".
With days to go before the summit, Kim made a highly publicized declaration after a plenary meeting of the Central Committee of the Workers' Party of Korea that North Korea would no longer launch intercontinental-range ballistic missiles or test nuclear weapons.
But Kim's declaration was not a gesture of goodwill aimed at South Korea and the United States. It was the manoeuvre of a confident and self-assured nuclear weapons power.
But despite this, the summit will provide Kim with an opportunity to demonstrate to the United States and the world just how far he is willing to go in talking about his nuclear weapons programme.
To date, there has been a conspicuous gap between what South Korea has said about North Korea's intentions and everything North Korea has done to communicate its intentions. That may or may not change at the upcoming summit, but the result will matter.
Of course, the inter-Korean agenda for Moon is broader than just denuclearisation. A general reduction in tensions and the discussion of issues related to reunification will be on the agenda.
Above all, however, the Moon-Kim summit, if successful, will clear the road to the first-ever US-North Korea summit. With just days to go before the leaders of the two Koreas meet, anything remains possible.
The Trump administration, meanwhile, has offered conflicting statements on what precisely it means when it says that it seeks to denuclearise North Korea.
For instance, the administration has suggested that North Korea may only be required to cease testing of its missiles – something Kim has already broached – and conversely made statements suggesting that only the complete, verifiable and irreversible denuclearisation of North Korea would be acceptable.
Whatever lies ahead on the Korean peninsula, the upcoming inter-Korean summit will be a tipping point. A failure could immediately bring an end to any and all diplomatic momentum and hurtle the peninsula back toward the dangerous days of brinkmanship seen in 2017.
Success, on the other hand, while difficult to define and pin down, could lead to an incredibly high-stakes US-North Korea meeting. For the moment, what happens next will be up to Kim and Moon.
This article first appeared in the South China Morning Post. It is published here with kind permission.