Pakistani Military to Deploy Some 370,000 Troops During July 2018 Elections
The Pakistani military will monitor the country's upcoming general elections closely.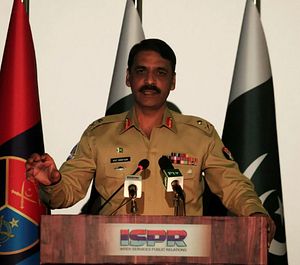 On Tuesday, the Pakistani Army announced that it would deployed more than 371,000 troops to secure the country's upcoming general elections on July 25.
Major General Asif Ghafoor told a press conference about the deployment, saying that it would ensure the fairness and transparency of the election proceedings. The elections are expected to mark Pakistan's second successful transfer of power from one civilian government to another.
The military justified its deployment decision by saying that the deployed troops would help ensure that elections would be "fair and free." "We don't have a political party. We don't have a loyalty," Ghafoor added.
The announcement comes amid months of allegations from Pakistani politicians and civil society groups that the Army is seeking to meddle in the country's democratic processes, ostensibly to assist the election of Imran Khan's Pakistan Tehreek-e-Insaaf.
The planned increase in Army deployments at polling centers this year represents a considerable increase from the last general elections in 2013. Back then, about 70,000 troops had been deployed, with a primary concern being violence by armed militants around the elections.
Today, the security situation in Pakistan has improved, though concerns remain. Underlining the risk to Pakistani democracy, a suicide bomber on Tuesday killed Haroon Ahmed Bilour, a candidate from the Awami National Party, while campaigning, underlining that even if the militant threat in Pakistan has been somewhat mitigated, it continues to exist and threaten the upcoming elections.
But the disproportionately large increase in the Pakistani Army's deployment this year merits scrutiny, especially amid intensifying civil-military tensions under the current Pakistan Muslim League-Nawaz government starting in late-2016 and an increase in threats on journalists.
Significant too is the background influence of China, which has invested billions in Pakistan through the China-Pakistan Economic Corridor set of infrastructure and connectivity projects. While none of the three major parties in Pakistan are calling for a total review of Chinese involvement in the country, Beijing is invested in political stability through and following the elections—something that a stepped up role by the Pakistani military can ostensibly provide.
The July 25 elections will put 342 National Assembly seats up for grabs, with 272 seats elected in single-member constituencies. 70 other seats are reserved for women and members of ethnic and religious minorities. The Pakistan Muslim League-Nawaz, the incumbent ruling party, will face opposition from the Pakistan People's Party (PPP) and the PTI. Several smaller and regional parties will contest seats as well. The Pakistan Army is widely perceived to favor the PTI over the PML-N and the PPP.
The Pakistan constitution provides for general elections every five years, except where the National Assembly has been dissolved.