Can the Chennai Connect Keep India-China Relations on Track?
The Indian and Chinese leaders avoided the hottest issues. Will the Mamallapuram meeting matter?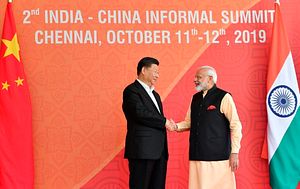 Mamallapuram in Tamil Nadu, the historic town of the Pallava dynasty, was witness to the second "informal" summit between Indian Prime Minister Narendra Modi and Chinese President Xi Jinping last week. Coined as the "Chennai Connect," the meeting was an effort to carry forward the "Wuhan spirit" to resolve differences between the two Asian powers. 
While keeping each others' sensitivities in mind, China did not raise the Kashmir issue and India did not raise the matter of Pakistan-sponsored terrorism. Regional connectivity, sustainable development goals, climate change, cultural exchange, increasing people-to-people connectivity, and many other areas of potential cooperation were discussed in the summit. Both leaders asserted that enhanced cooperation will reduce the trust deficit between them. But it is easier said than done. The two countries will need to move beyond just statements because there is a very little change in the language of the press statement from Wuhan.
While some of the directions of India's foreign policy under Modi have been bold and astute, it is difficult to deny the asymmetry of economic power between India and China. The GDP of China is nearly five times larger than India's. Bilateral trade between the two countries reached $95.54 billion in 2018, with the trade deficit at $53 billion in China's favor, the biggest India has with any country. It has been agreed to form a high-level group to be led by India's Finance Minister Nirmala Sitharaman and Chinese Vice Premier Hu Chunhua to discuss trade, investment and services. Meanwhile, China has asked India to take an independent decision on Huawei's bid for India's proposed 5G network and not be influenced by America pressure. The United States has accused China of exploiting Huawei equipment for espionage purposes.
It needs to be noted that the inaugural informal summit held in Wuhan in April 2018 was set against the backdrop of a 73-day long military stand-off between the armies of the two countries in the Doklam tri-junction in Sikkim. The summit helped reduce the tensions, with Modi and Xi asking their militaries to strengthen communication and build trust. The Mamallapuram summit, on the other hand, has been held against the backdrop of India's abrogation of Article 370 of the Indian Constitution, which granted special status to Jammu and Kashmir. 
China has bitterly opposed the move to bifurcate the State of Jammu and Kashmir, and has supported Pakistan in internationalizing the dispute. China engineered a United Nations Security Council discussion on the issue, despite Indian Foreign Minister S. Jaishankar travelling to Beijing to explain that India's actions in Kashmir had no hidden motive for the Sino-Indian border dispute. 
Just a week before Xi's India visit, the Chinese ambassador to Pakistan stoked controversy by claiming that China would support Pakistan in the resolution of the Kashmir dispute. India responded by reiterating its position that this was an internal issue. Simultaneously, Chinese Vice Minister Luo Zhaohui raised objections to India's military exercises in Arunachal Pradesh. The Indian Army's newly raised 17 Corps recently took part in a military exercise at a height of around 15,000 ft, about 100 km from the Line of Actual Control. This is not the first time that China has objected to military exercises in Arunachal Pradesh, which is claimed by China as "South Tibet." Xi's visit was formally announced when Pakistani Prime Minister Imran Khan and Army Chief General Qamar Javed Bajwa were in China. While Kashmir figured very prominently in the China-Pakistan joint statement, it conspicuously did not come up for discussion (at least as far as public statements are concerned) in the Mamallapuram summit.
China's moves are always guided by the principle of power politics. But it is also true that India cannot afford anything less than stable and productive ties with China at a time of huge turbulence in the global geopolitical environment. China is facing pressure from the United States on economic issues. The turmoil in Hong Kong seems to be getting out of control, the image of the Chinese Communist Party has suffered a setback due to continuing anti-government protests. The Uyghur issue, pertaining to China's harsh treatment of Uyghur Muslims in Xinjiang, has attracted a lot of criticism. The United States recently blacklisted eight Chinese Artificial Intelligence (AI) companies associated with the surveillance of Muslims in Xinjiang. But it remains to be seen how India can take advantage of China's current vulnerabilities. 
China's willingness to block any concrete action against Pakistan for supporting terrorism has constituted one of the most pressing obstacles in having smooth relationship between New Delhi and Beijing. China believes that India poses one of the few potential challenges to its ambitions of Asian dominance. Therefore, the primary motivation behind China's strategic cultivation of Pakistan has been a long-held strategy of entangling India in the sub-continental rivalry. Beijing has been quite successful in that Indo-Pakistan hostility has prevented India's power and influence from spreading beyond its immediate neighborhood. Both Pakistan and China have been single-minded in their pursuit to counter India, paving the way for one of the strongest strategic alignments in contemporary international politics. Both frequently define their partnership as "higher than the mountains and deeper than the oceans." 
Due to unresolved border disputes and the huge power imbalance between two countries, India continues to suffer on economic, diplomatic, and strategic fronts. Despite the Wuhan summit, China had no problem with taking actions that displeased India — whether the question of blocking India's membership of the Nuclear Suppliers Group or opposing India's Kashmir move in the UNSC. Therefore, it is China's responsibility now to demonstrate seriousness in mending fences with India through the "Mamallapuram spirit."
Vinay Kaura is an Assistant Professor in the Department of International Affairs and Security Studies, Sardar Patel University of Police, Security and Criminal Justice, Rajasthan