Indonesia's New Attack Helicopters Put Spotlight on US-Indonesia Defense Ties
The two sides held a ceremony last week to commemorate another completed delivery of military equipment.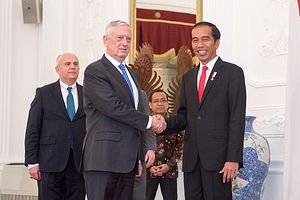 Last week, the United States and Indonesia held a ceremony to commemorate the completed delivery of Apache Guardian helicopters to the Southeast Asian state. The event once again placed the spotlight on the defense realm in the U.S.-Indonesia strategic partnership and the efforts by Jakarta to step up its military modernization efforts
As I have noted before in these pages, the United States and Indonesia have long shared a defense relationship, and that has continued to broaden over the years with some previous restrictions eased as well. U.S. policymakers have recognized that for all the limitations inherent in the U.S.-Indonesia relationship, Jakarta is nonetheless a significant actor in Southeast Asia and an important partner in addressing a wide range of security challenges. That pattern has continued on with U.S. President Donald Trump, as evidenced by several developments including U.S. Defense Secretary Jim Mattis' visit to Indonesia in January (See: "What Does Mattis' ASEAN Trip Say About Trump's Asia Policy?").
One of the elements of the U.S.-Indonesia defense relationship is military equipment, and a tangible example of that was the transfer of Apache Guardian helicopters to Indonesia. Indonesia had requested the eight Apache Guardians under the U.S. Foreign Military Sales (FMS) program back in 2012, and in 2015, the U.S. Department of Defense (DOD) had awarded Boeing a contract to supply Indonesia with eight AH-64E Apache Guardians. The helicopters began arriving in Indonesia in December 2017 with the final ones coming in in March 2018.
On May 16, Indonesia officially accepted eight AH-64E Apache helicopters from the United States. The helicopters were accepted at a ceremony attended by a range of Indonesian and U.S. officials, including Indonesian Defense Minister Ryamizard Ryacudu and U.S. Deputy Ambassador to Indonesia Erin Elizabeth McKee. During a ceremony that occurred at the Army Aviation Center at the Ahmad Yani Airport in Semarang, Ryacudu symbolically handed over the helicopters to TNI Commander Logistics Assistant Rear Admiral Bambang Nariyono, who was representing Air Chief Marshal Hadi Tjahjanto.
In accepting the helicopters, Ryacudu said the helicopters were important as part of the wider effort by Indonesia to strengthen its defense and modernize its military to counter various threats, and urged personnel to ensure their proper operation and maintenance. Both sides also cast the development as an example of bilateral defense cooperation occurring under the wider U.S.-Indonesia strategic partnership, which was reached back in 2015 (See: "US-Indonesia Strategic Partnership After Jokowi's Visit").