North Korea Ramps Up Criticism of US, Japanese Pressure Proponents Ahead of Trump-Kim Summit
North Korea is keenly watching comments from senior U.S. officials ahead of the Trump-Kim meeting.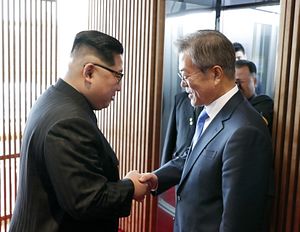 Articles in North Korean state media in recent days have taken aim at high-level U.S. and Japanese statements in support of continued pressure on the country until it agrees to completely denuclearize. Seizing on the outcome of the third inter-Korean summit meeting at Panmunjom on April 27, North Korea has positioned itself to critique continued international pressure, including sanctions, as antithetical to the spirit of the inter-Korean declaration.
On May 6, the Korean Central News Agency, North Korea's externally focused state media outlet, ran a comment from an unnamed spokesperson for the country's Ministry of Foreign Affairs. The comment addressed "U.S. increased pressure against the DPRK," obliquely referencing recent comments by U.S. officials since the outcome of the inter-Korean summit.
The statement showed that the North Korean government is closely watching public statements by top Trump administration officials ahead of an expected summit meeting between the U.S. president and North Korean leader Kim Jong-un, likely in early June. The North Korean spokesman noted that U.S. officials were "making open remarks" that there would be no sanctions relief for North Korea "until the DPRK gives up its nuclear weapons."
That observation appears to reference comments made by U.S. National Security Adviser John Bolton on April 29 on Fox News. Bolton said that Kim Jong-un would have to dismantle his "entire nuclear program" before any sanctions relief. The spokesman also concluded the statement carried by KCNA with the following:
It would not be conducive to addressing the issue if the U.S. miscalculates the peace-loving intention of the DPRK as a sign of "weakness" and continues to pursue its pressure and military threats against the latter. (sic)
To my eye, there's little doubt that the spokesperson was rebutting remarks delivered by Trump over the weekend to the National Rifle Association in the United States:
With respect to North Korea, remember how strong it was, when they were saying 'This is going to be nuclear war!' … No. You know what gets you nuclear war? Weakness. Being weak gets you nuclear war.
In line with Kim Jong-un's 2018 New Year's Day address and his late-April remarks to the Workers' Party Central Committee, North Korea has not framed its decision to pursue diplomacy with foreign leaders as a function of weakness.
Instead, Kim applauded the completion of North Korea's nuclear deterrent and has set out to speak with international leaders, including South Korean President Moon Jae-in, Chinese President Xi Jinping, and, eventually, Trump, as a self-confident nuclear weapons power looking for economy opportunity.
Trump, meanwhile, has been eager to take credit for his "maximum pressure" campaign, which was initiated just more than one year ago, as the cause for Kim's turn away from missile testing. In reality, the North Korean leader had always intended to realize the completion of a credible intercontinental-range ballistic missile capability by the end of 2017, after which he would move to an economy-first approach to leading North Korea.
A day later, on Sunday, KCNA carried a scathing editorial taking aim at Japanese Prime Minister Shinzo Abe, who is slated to host Chinese Premier Li Keqiang and Moon for a Japan-China-South Korea trilateral summit meeting in Tokyo this week. The editorial slammed Abe for expecting "detailed actions for the denuclearization" of the Korean Peninsula after the Panmunjom summit, tacitly acknowledging that the inter-Korean summit had resulted in an aspirational and vague statement on the point.
The rest of the editorial pitched Japan as a would-be spoiler of inter-Korean bonhomie and peace, describing Tokyo's diplomatic attempts as a "stupid last-ditch effort to give a face-lift to its lost image after being excluded from the settlement of the issue of the Korean peninsula."
Heading into the summit with Trump, North Korea is seeking to build on the momentum of the Panmunjom declaration to portray further sanctions as an impediment to inter-Korean peace. Kim's Jong-un's "new strategic line," as announced in April, privileges economic growth. On the road to that objective—among others—Japanese and U.S. proponents of continued pressure until the complete, verifiable, and irreversible denuclearization of North Korea will remain important hurdles for Pyongyang.