Russia's Sole Aircraft Carrier to Be Fitted With Advanced New Air Defense System
The Russian Navy's flagship will get a new advanced short to medium range surface-to-air air defense system.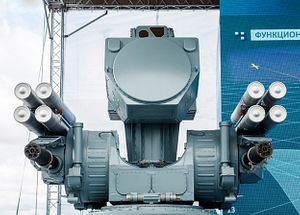 The flagship of the Russian Navy, the aircraft carrier Admiral Kuznetsov, is slated to receive an advanced new air defense system during upcoming modernization work on Russia's sole operational flattop, the Russian Navy Deputy Commander-in-Chief Vice Admiral Viktor Bursuk said on May 2.
A contract between the Russian Ministry of Defense (MoD) and state-owned United Shipbuilding Corporation (USC) for the modernization and overhaul of the Admiral Kuznetsov has finally been signed last month, following a long delay due to contractual disputes between the two sides.
Work on the carrier is slated to begin this month at USC's Zvezdochka shipyard, located in Severodvinsk in Northern Russia. The Admiral Kuznetsov is expected to be returned to the Russian Navy in 2021 armed with, among other things, the Pantsir-M/EM air defense system fitted with eight 57E6-E surface-to-air missile launchers (32 missiles in total) and two GSh-6-30K/AO-18KD 30 millimeter six-barrel rotary cannons. (The Pantsir-M/EM will also be able to fire the Hermes-K surface-to-surface missiles.)
"Its air defenses will be improved and new shipborne Pantsir [surface-to-air missile] systems will be installed on it," Bursuk said today, according to TASS news agency. "Besides, its power-generating equipment will be replaced by new boilers, a number of new pumps and new flight control systems: landing, surveillance, control systems and so on." Given the ongoing global arms race for advanced anti-ship missiles, installing the Pantsir-M/EM air defense system aboard the Admiral Kuznetsov is unsurprising.
In 2017, the Russian MoD cut funding for the upgrade and overhaul of the carrier in half, which currently is estimated to be $400-600 million. "As a result of the budget cuts, the carrier's electronic warfare, communication, intelligence, navigation, and combat control systems will likely not be undergoing modernization," I wrote in April. "Most work will be confined to the Kuznetsov's flight deck and its propulsion systems including replacing four out of the carrier's eight turbo-pressurized boilers while refitting the remaining four."
Furthermore, as I reported previously, the 2018-2021 timeframe is not realistic for one important reason:
All Soviet carriers were constructed in Ukraine and Russia has lost valuable expertise and technology — particularly surface ship propulsion technology — due to the ongoing crisis in Ukraine.
While Russia did overhaul a Kiev-class carrier-cruiser for the Indian Navy converting it from a hybrid carrier/cruiser to a pure carrier in recent years, the project encountered multi-year delays and cost overruns with India having to pay $1.2 billion more than originally budgeted.
The carrier, commissioned in 1990 and capable of carrying of up to 41 aircraft including Su-33 air superiority fighters, MiG-29K/KUB fighter aircraft, as well as Kamov Ka-27, Ka-31, and Ka-52K helicopters, has not undergone a major retrofitting since its commissioning, except for a two-year refit between 1996 and 1998 supported by Ukrainian expertise and hardware.