US F-35B Stealth Fighters Train With Japanese F-35As for First Time
U.S. and Japanese fifth-generation stealth fighter jets are training for the first time in northern Japan.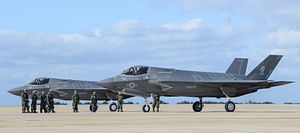 Japan Air Self-Defense Force (JASDF) F-35A Lightning II fifth-generation stealth fighter jets and U.S. Marine Corps F-35Bs, the service's short take-off and vertical landing variant of the Lightning II Joint Strike Fighter, are for the first time conducting a joint training exercise in northern Japan this week.
The so-called Aviation Training Relocation began on May 10 at Misawa Air Base in Aomori Prefecture in the northernmost part of Honshu and is expected to last until May 22, according to Stars and Stripes. Next to eight F-35Bs and an unknown number of Japanese F-35As, the JASDF is participating with four F-2 multirole fighter jets, four F-15J Eagles and one airborne early warning and control aircraft (AWACS).
The joint training exercise has taken place annually since 1997. This year marks the first time that F-35s are participating in the drill, which involves executing daily sorties that include basic fighter maneuvers, defensive counter air mission sets, as well as air-to-ground bombing at the Misawa Air-to-Ground Firing Practice Range.
"Misawa Aircraft Training Relocation provides our Marines and Sailors an excellent opportunity to train with our U.S. Air Force counterparts and Japanese allies in the spirit of mutual security cooperation, while at the same time, allowing us to further hone our skills across a spectrum of F-35 mission sets," Colonel Mark Palmer, Marine Aircraft Group 12 commander, was quoted as saying.
In January, JASDF deployed its first F-35A at Misawa Air Base, which will be home to Japan's first operational F-35A squadron with a total of nine aircraft to be deployed by the end of fiscal year 2018. Japan plans to induct a total of 42 F-35As in the years ahead. In addition, Tokyo has been mulling the procurement of at least 20 additional ready-to-fly F-35A stealth fighter jets from U.S. military aircraft maker Lockheed Martin over the next six years, although this has so far not been publicly confirmed by Japan's Ministry of Defense (MoD). JASDF F-35As will be armed with new long-range stand-off missiles such as the precision-guided JSM (Joint Strike Missile), originally developed as an anti-ship missile, with a range of about 500 kilometers (310 miles).
The MoD has reportedly also been interested in the F-35B for service on islands skirting the East China Sea or aboard Izumo-class helicopter carriers.
The U.S. Marine Corps operates a squadron of 16 F-35Bs out of Iwakuni airbase in Yamaguchi Prefecture, the service's first overseas-deployed F-35B squadron. In March, a detachment of F-35Bs also deployed for the first time aboard the Wasp-class amphibious assault ship USS Wasp currently operating in Asian waters. In addition, the U.S. Air Force stationed 12 F-35As at Kadena Air Base in Okinawa for a six-month rotational deployment, which began in late October 2017.