Japan Deploys 2nd F-35A Stealth Fighter to Air Defense Force Base
Japan's second operational F-35A fighter jet deployed to Misawa Air Base on May 15.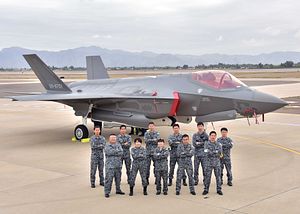 The Japan Air Self-Defense Force (JASDF) deployed its second F-35A Lightning II fifth-generation stealth fighter jet, the conventional take-off and landing (CTOL) variant of the aircraft, to Misawa Air Base in Aomori Prefecture in the northernmost part of Honshu in northern Japan on May 14, the Ministry of Defense (MoD) said in a statement quoted by IHS Jane's Defense Weekly.
It was the third F-35A to undergo assembly at the Mitsubishi Heavy Industries (MHI) F-35 Final Assembly and Check Out facility in Nagoya. (The first F-35A built in Japan was rolled out in June 2017.) The JASDFs first batch of four F-35As were all built in the United States, while the remaining 38 F-35A aircraft are currently being assembled in Japan. (The JASDF plans to induct a total of 42 F-35As.)
According to the MoD, five F-35As, which are currently being used for training flights in the United States, will deploy to Misawa Air Base by the end of the month to form the JASDF's first operational F-35A squadron, consisting of seven F-35A aircraft in total. (Two more F-35As are expected to join the squadron by the end of 2018.) The two JASDF F-35As at Misawa Air Base are presently conducting joint training with U.S. Marine Corps F-35Bs, the service's short take-off and vertical landing variant of the Lightning II fighter jet.
This so-called Aviation Training Relocation kicked off on May 10 at the air base and is expected to last until tomorrow, May 22. "The joint training exercise has taken place annually since 1997," I explained last week. "This year marks the first time that F-35s are participating in the drill, which involves executing daily sorties that include basic fighter maneuvers, defensive counter air mission sets, as well as air-to-ground bombing at the Misawa Air-to-Ground Firing Practice Range."
The JASDF deployed its first F-35A to Misawa Air Base in January. The United States currently has 38 F-35As and F-35Bs deployed in Japan, as I wrote last week:
The U.S. Marine Corps operates a squadron of 16 F-35Bs out of Iwakuni airbase in Yamaguchi Prefecture, the service's first overseas-deployed F-35B squadron. In March, a detachment of F-35Bs also deployed for the first time aboard the Wasp-class amphibious assault ship USS Wasp currently operating in Asian waters. In addition, the U.S. Air Force stationed 12 F-35As at Kadena Air Base in Okinawa for a six-month rotational deployment, which began in late October 2017.
Japan is also considering purchasing at least  20 additional ready-to-fly F-35A stealth fighter jets from U.S. military aircraft maker Lockheed Martin over the next six years. There have also been reports that the MoD is interested in the F-35B for service on Japanese islands bordering the East China Sea and aboard Izumo-class helicopter carriers.