What China's RIMPAC Exclusion Means for US Allies
Japan, in particular, was likely encouraged.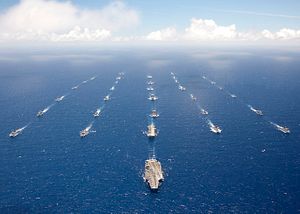 China has just been uninvited from the 2018 Rim of the Pacific (RIMPAC) exercises, a yearly set of war games that are held in the Pacific and in the past have included Japan, India, and other Asian powers. The announcement came from Department of Defense spokesman Lt. Col. Christopher Logan. In his statement, he cited the reason for the action as China's continued build up and militarization of the South China Sea.
Logan's statement says, "[A]s an initial response to China's continued militarization of the South China Sea we have disinvited the PLA Navy from the 2018 Rim of the Pacific (RIMPAC) Exercise. China's behavior is inconsistent with the principles and purposes of the RIMPAC exercise." Logan goes on to name specifically two areas of the South China Sea, the Spratly Islands region and Woody Island in the Paracels group, where China has employed military equipment such as anti-ship missiles, surface-to-air missiles, and electronic jammers.
What Is RIMPAC?
RIMPAC is the world's largest set of international maritime war games. The exercises occur every two years and are led by the U.S. Navy's Pacific Fleet, headquartered in Honolulu, Hawaii. They are seen as a unique opportunity for Pacific Rim nations to cooperate as they train and work together to solve problems. Also, the games are seen as a way of ensuring open access to important shipping lanes in Asia's increasingly contested waters.  The exercises are also a display of power — in the sense that participants are able to understand the technological capabilities of other participants — and thus perhaps act as a deterrent to further aggressive action.
Unfortunately, in the past the RIMPAC has also illustrated the problems between countries. During the last RIMPAC exercises, in 2016, the Chinese People's Liberation Army Navy (PLAN) snubbed Japan by barring Japanese sailors from touring their ships and "reluctantly inviting members of Japan's Maritime Self Defense Forces or MSDF to a reception aboard a People's Liberation Army Navy (PLAN) warship," only extending the invitation after they were pressured by public comments from U.S. leadership.
China first participated in the RIMPAC exercises in 2014, as noted by The Diplomat. Back then China's participation was lauded and viewed as a step toward cooperation. In Asia's current climate, these exercises are especially important. Tension in both the South China Sea and East China Sea tends to increase during summer months, when activity is on the rise due to the presence of fishing and trade vessels.
Asia's Most Important Sea Lanes
The island areas mentioned in Logan's statement are part of the world's most important shipping lanes. A majority of the world's most important ports are located in and around the South China Sea. As a Council on Foreign Relations report notes, with trade increasing among members of ASEAN the navigability of these waters by trade vessels has vital importance to countries in the region.
China's actions expose the vulnerability of important maritime passageways in Asia. The Spratly Islands and Woody Island are situated past the Straits of Malacca, a historic, narrow shipping lane that sees nearly half of the world's annual merchant fleet pass through it. Most ships continue onward through the Spratly Islands region, continuing on to Asia. This traffic includes crude oil and liquid natural gas (LNG) shipments. Japan is the recipient of many of these shipments as it is dependent on imported energy, along with Taiwan and South Korea.
Although surveys of the Spratly Islands along with the disputed Senkaku/Diaoyu Islands in the East China Sea have detected oil and gas reserves, they are buried deep below the ocean floor and would be costly to develop. China's military buildup and perceived aggression in the region is more about its ambitions as a great power and extending its sovereignty.
These assertions directly challenge Japan, which has a history of naval strength, and a construction of identity that is based upon the sea (what William Tsutsui has dubbed "pelagic empire"). The sea has protected Japan from invasions and served as a source of fish and other resources. Moreover, China's excursions in the South China Sea not only rankle Japan but also challenge other Southeast Asian countries including the Philippines, Malaysia, Vietnam, Indonesia, and Taiwan.
The RIMPAC Decision Strengthens Allies
The decision to disinvite China from the 2018 RIMPAC exercises is a predictable response to challenges to the security and sovereignty of U.S. allies by China. While as of this writing, Japan has not made a direct comment about the move, it is a beneficiary of the United States' assertions of freedom of navigation in Asia's shipping lanes, which it has patrolled with the United Statese in recent years. The Japanese Navy is able to work seamlessly with the U.S. Navy (they possess parallel communications technology) and Japan is a close alliance partner on maritime matters throughout Asia. Last year, the United States conducted the Malabar exercises and an additional set of simulated war games with India and Japan.
The "unvitation" of China to the RIMPAC exercises is only a diplomatic move; so far there has been no offensive military action taken, and hopefully this will not be necessary. But Asia watchers should expect that eventually these soft moves will lead to harder ones and then the United States and its Asian allies must decide how far they are willing to go to protect Asia's most important sea lanes.
Nicole L. Freiner is Associate Professor of Political Science at Bryant University where she teaches courses on Global Politics, Asian Politics, Environmental Policy as well as Comparative Politics. Follow her on Twitter: @ProfFreiner