Biden to Host Japan's Kishida for Talks on Defense, Economy
Ahead of the visit, Japan's prime minister promised a deeper alliance with the U.S. under Japan's new defense strategy.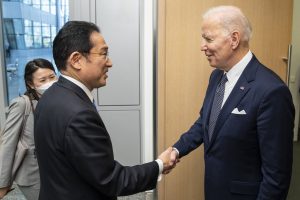 Japanese Prime Minister Kishida Fumio on Wednesday pledged to deepen his country's alliance with the United States under Japan's new defense policy that breaks from its exclusively self-defense-only stance in the face of growing regional tensions.
Kishida, speaking in a news conference after visiting Ise Shrine in central Japan, said he will visit Washington for talks with U.S. President Joe Biden to underscore the strength of the Japan-U.S. alliance and highlight closer cooperation between the countries under Japan's new security and defense strategies adopted last month.
The U.S. visit is part of Kishida's upcoming trip to most of the Group of Seven countries beginning Monday. Japan will host this year's G-7 summit in Hiroshima. Kishida said his meeting with Biden will be "very important" and "more significant than showing my face as G-7 president."
"We will show to the rest of the world an even stronger Japan-U.S. alliance, which is a lynchpin of Japanese security and diplomacy," Kishida said. "We will also show our further cooperation toward achieving a 'free and open Indo-Pacific.'"
Japan, under the new security and defense plans, is purchasing hundreds of U.S.-developed Tomahawks and other long-range cruise missiles to preempt possible attacks and also building up defenses in southwestern Japan amid growing worries of a Taiwan emergency. Japanese media said the U.S. and Japan are expected to discuss how they would cooperate in the event of a conflict over Taiwan.
Earlier Wednesday, the White House announced that Biden will host Kishida for economic and security consultations on January 13.
White House press secretary Karine Jean-Pierre said meeting will include discussions of North Korea's nuclear and ballistic missile programs, amid concerns over the potential for another nuclear test by the reclusive nation. Also on the agenda: economic issues, Russia's invasion of Ukraine, climate change, and stability across the Taiwan Strait.
"President Biden will reiterate his full support for Japan's recently released National Security Strategy, its presidency of the G-7, and its term as a non-permanent member of the United Nations Security Council," Jean-Pierre said. "The leaders will celebrate the unprecedented strength of the U.S.-Japan Alliance and will set the course for their partnership in the year ahead."
The two leaders last met in Bali, Indonesia, during November's Group of 20 summit.
Kishida will also visit France, Italy, Britain, and Canada to meet their leaders during his January 9-15 trip, according to Japan's Foreign Ministry.