Why India's Drone Policy Needs a Rethink
New Delhi needs to think more about drone technology and its domestic, regional, and global implications.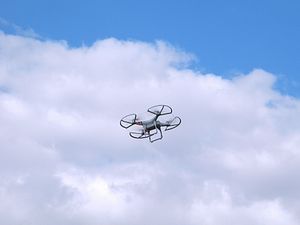 Though India is beginning to deal with the impact of drone technology, unsurprisingly, the Indian government has been slow to understand the implications, both at the domestic and at the international level.
India has had military drones – or Unmanned Aerial Vehicles (UAV) – for many years and is also developing combat versions (UCAVs or Unmanned Combat Aerial Vehicles). But the use of drones for civilian purposes remain underdeveloped, because regulations regarding the technology are not yet fully established. At the same time, India has not been as active as it could be in the international debate about global governance aspects of drone technology, which represents a lost opportunity for New Delhi.
The development of drones has had a significant impact in a number of ways. The obvious one is its application in warfare. A number of countries around the world use drones for military operations, for applications such as reconnaissance and surveillance, search and rescue operations, and border patrols, as well as combat. Former Director of the Central Intelligence Agency Michael Hayden famously said that "Targeted killing using drones has become part of the American way of war."
Of course, drone use now goes beyond military applications. Use of UAVs in the commercial and social sectors has increased. Many large corporations are looking at using drones for a number of different functions.  For instance, Amazon stated in 2013 that it will use drones for delivery of packages and has been exploring its feasibility since then. It even did its first drone delivery in the university town of Cambridge in the United Kingdom in July 2016. Monitoring critical infrastructure such as ports, power plants, and infrastructure construction with drones are other important civilian functions that are being explored.
Given the multiplicity of functions both in the civilian and sectors, the use of drones and the market for drones is expected to pick up – a recent Goldman Sachs report said the global spending on UAVs over the next five years will be approximately $100 billion. A large chunk of this spending is likely to be on the commercial and civil sector. However, there are still several questions about the legal, regulatory, and policy aspects, both at the global governance and the national levels, that need to be addressed.
In India, the first true notification regarding drones came as a Public Notice issued by the Office of the Director General of Civil Aviation (DGCA), India's civil aviation regulator, on October 7, 2014. The document listed out the need for potential operators to take "approval from the Air Navigation Service provider [Airport Authority of India], defense, Ministry of Home Affairs, and other concerned security agencies, besides the DGCA," onerous conditions that in reality means a near complete ban on drones. It also stated that the "DGCA is in the process of formulating the regulations (and globally harmonize those) for certification & operation for use of UAS in the Indian Civil Airspace."
Two years later, in April 2016, the DGCA prepared another set of draft guidelines on the use of drones for civilian or recreational purposes and sought comments from different stakeholders for a period of 21 days. In October 2017, the DGCA produced another set of guidelines seeking once again comments from the stakeholders by December 31, 2017. However, the government is yet to formalize these draft guidelines into policy measures or manuals.
It appears clear that the Indian government is yet to comprehend the rapid changes taking place within the industry, and that the repeated draft guidelines are a reflection of the pressure they are facing from multiple stakeholders to develop an effective regime. It should worry New Delhi that despite a near complete ban on drones, there have been large number of drone sightings in Indian skies. Indian policymakers need to recognize that blanket bans do not work.
A new policy framework is needed, which must effectively address issues such as liability in case of drone-to-drone collisions and interference, regulatory, legal, and quality control and licensing requirements. For instance, a conspicuous lacuna is that the DGCA circulators do not mention anything about import standards, even though the majority of the drones in India are imported.  The lack of a policy outline on quality control for indigenously manufactured- and built-drones is equally troubling.
At the international level, policy regulations for drones are still in the making.  But New Delhi will be well advised to take an active part in the discussions because new global rules will surely affect its interests. The International Civil Aviation Organization (ICAO) has been the primary platform leading the global governance efforts. Though these efforts began in 2007, an outcome is expected only later this year. The ICAO has issued several rules in the form of circulars and manuals but for obvious reasons, these are stop-gap measures. Meanwhile, a few countries have established certain ground rules with regard to the use of drones. It may be useful for ICAO to consult these as well before coming out with its own guidelines.
For New Delhi, there are both domestic and international imperatives for paying greater attention to this critical issue. But whether Indian bureaucracy's glacial pace and coordination problems will permit this is anybody's guess. Thus far, the record does not seem encouraging in this respect.