Winning Hearts on China's Belt and Road
Beijing's Belt and Road Initiative needs to win hearts, not just projects, in Southeast Asia.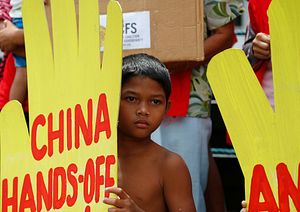 Five years have passed since China's Belt and Road Initiative (BRI) was first announced in Kazakhstan, and it continues to have a serious image problem. Considering the huge debts piling up on infrastructure projects in Laos and Sri Lanka, concerns about Chinese intentions are not unfounded. The Center for Global Development recently published a list of seven additional countries that are at risk of excessive lending. Such cases are easy ammunition for opponents of Chinese projects in Southeast Asia and, increasingly, opponents of the BRI in Southeast Asia have been using the narrative of geopolitics to destabilize Chinese projects.
Last month, Chinese President Xi Jinping had once again defended the BRI at the 17th Boao Forum in Hainan, claiming that "China has no geopolitical calculations, seeks no exclusionary blocks, and imposes no business deals on others." Rejection of geopolitical intentions in China's BRI projects have become common in statements by Chinese leaders, but diplomatic rhetoric is inadequate to improve public trust of China, especially in Southeast Asia, where strategic concerns regarding Chinese intent continues to run high. The BRI remains an important way for some governments to access much-needed funds for infrastructure projects, but political forces have increasingly used the BRI as a way to attack ruling governments. Chinese companies must realize that they are part of the solution to improving China's image overseas.
The Dilemmas of Accepting Chinese Investment
When the two components of the BRI — the Silk Road Economic Belt and the Maritime Silk Road – were announced for the first time, Southeast Asia was naturally considered one of its central nodes. In fact, Xi Jinping made his announcement of the Maritime Silk Road in Jakarta in 2013, as the first foreign leader to address to the Indonesian legislature. The amount of diplomatic capital Beijing injected to this initiative has been significant. High-level summits involving China now often carry the BRI's name and often end up with an agreement on concretizing outcomes on infrastructural development.
Considering the grand ambition of the project, and a general distrust of Chinese intentions in Southeast Asia, it's not difficult to see that perceptions of the BRI have been mixed in the region, and many see China as paving the way for a Sinocentric global order. In particular, Beijing's willingness to invest in cash-strapped projects have brought concerns that China is purposely doing so to in order to seize these projects for military purposes down the road. However, Southeast Asian governments have, by and large, accepted the flow of Chinese investment for their many infrastructure projects. Funding from the BRI adds to the legitimacy of ruling governments, many of which have made improving infrastructure a key priority. Philippine President Rodrigo Duterte and Malaysian Prime Minister Najib Razak are among the BRI's biggest supporters in Southeast Asia and have received large amounts of investments from China for ambitious residential and connectivity projects. The BRI has also found great support in Indonesia, Southeast Asia's biggest country. "The BRI presents significant opportunities for the future of Indonesian trade and connectivity," one Indonesian minister told the authors, "so we should just accept it."
Nonetheless, the sensitivity over China's presence in the region remains large. While neither Japan nor the United States are entirely deemed "benevolent" by Southeast Asian states, China's image as a hegemonic power remains far more protuberant within some strategic circles. This is in part due to Chinese actions in the South China Sea, which have sometimes hampered Beijing's charm offensive in Southeast Asia. Second, particularly in the case of Southeast Asia, the so-called "China threat" narrative is still very much alive and has its roots to more recent Cold War-era experiences of Chinese support for communist movements in the region.
The large presence of ethnic Chinese populations is also a factor contributing to Sino-Southeast Asian relations. In many parts of Southeast Asia, there is considerable resentment over economic grievances toward local ethnic Chinese populations. Ethnic Chinese populations have long been associated with corruption, rent-seeking practices and exploitation —  images that could easily take hold in parts of Southeast Asia where locals feel that they are not benefiting from the infrastructural projects built. Consequently, the ideologically-driven critique toward China is easily mobilized and in some parts of the region, the "China threat" narrative has traction. Take the case of Malaysia and the claims made by Najib's opponents that BRI projects facilitate a Chinese "colonization" of the country.
Chinese Companies and Perceptions of China
Chinese companies face some unique disadvantages when investing in Southeast Asia, and due to poor perceptions of China in some circles, they can make easy scapegoats. Chinese companies have long attempted to address concerns about their presence by initiating humanitarian activities, such as by building schools and hospitals, assisting flood victims, and investing in local education. Their contributions no doubt have an impact on local communities, but China's image remains tainted by challenges that are currently distinguished from those faced by other major investors, such as Japan and the United States.
First, Chinese companies must be warier over the business partners they work with. Many Chinese companies new to Southeast Asia often have little knowledge on the legal obligations and business customs abroad, preferring instead to pledge tremendous amount of trust to members of local business or political elites in Southeast Asia. The problem is that sometimes they cooperate with "problematic" Southeast Asian figures that could end up associating China (the state) with controversy. Such was the case when the Hanergy Holding Group and Gold Water Resources worked together with the Asia World Company — a Chinese-Burmese company accused of partaking in the heroin trade and money laundering — for the construction of the Kunlong/Upper Salween Dam. The Asia World Company turned out to have a fairly poor reputation in the country, as some of their construction projects (most notably the 100-km highway from Hsenwi to Kunlong in China) have led to flooding, contamination of water resources, and were rooted in land-grabs.
Second, Chinese companies should be more careful in studying the locations of their businesses and assessing the political and social impacts of their economic projects. There is some tendency for Chinese companies to value quick decisionmaking and efficiency, and there is often less attention to details, leading to economic projects that backfire. For instance, the decision to construct the 10,000-hectare Golden Triangle Special Economic Zone in Laos is rife with problems, as the area is still fairly lawless and illicit activities — like gambling, prostitution, and drugs — continue to flourish. While the objective has been to root such illegal activities, the project remains replete with problems as crime continues to prosper. There is also the case of Chinese investment in the Letpadaung Copper Mine in Myanmar, which since its construction in 2011, has been plagued with problems ranging from accusations regarding poor compensation of villagers residing in the area to health problems. Villagers have responded with protests, including one incident in 2012 when police officers shut down protests with phosphorus gas — damaging China's already-tainted image in the region.
Third, Chinese firms must work on improving their image by respecting and understanding local histories and customs. A dilemma faced by many Chinese companies is that they are not used to coping with lower productivity levels in some Southeast Asian countries, meaning that some have preferred to bring Chinese laborers to do jobs that would otherwise have gone to local Southeast Asians. The problem, of course, is that it creates the narrative that Chinese laborers are "flooding" into Southeast Asia, sparking the kinds of anxiety that could endanger not only Chinese projects but also ethnic Chinese Southeast Asians. As some Chinese companies are not accustomed to following laws that require offering contracts or insurances, local laborers have sometimes been laid off without compensation, leading to growing distrust among the local populace. Such was the case in 2017, when Indonesian labor unions staged large protests in front of the Chinese embassy over the firing of Indonesian laborers.
Southeast Asian domestic politics seem to be the biggest challenge facing Chinese companies. As a rising power long peered at with suspicion by Southeast Asian countries, China can neither easily rid of the image that it is a hegemonic power, nor can it get rid of the stereotype of being "greedy" and "corrupt" overnight. What could change perceptions of China (at least gradually) is increased engagement with locals (i.e. municipal, provincial) governments and civil society. Chinese firms repeatedly tout government rhetoric of "acting differently from OECD countries" or "striving for win-win solutions as a responsible developing country." Yet, China faces more challenges than other major powers in investing in Southeast Asia because of deep-seated resentment over both economic grievances and interethnic matters.
Xi once quoted an African proverb, "if you want to go fast, walk alone; and if you want to go far, walk together." China has an image problem in Southeast Asia and it must learn to cope with it by winning the region's hearts and minds. For China, doing business in Southeast Asia would require a better understanding the region's history, customs, and culture. Chinese firms can address this by making sure that their corporate social responsibility is not only limited to Confucius Institutes or humanitarian relief linked to the government, but by also being more approachable to communities. The concerns of scientists, local people, and environmentalists are just as important as those of government officials. While government officials make decisions, the locals are the ones whose hearts must be won. Governments are important partners, but as China makes an appealing scapegoat, Chinese companies must be willing to make more friends and fewer enemies.
As a start, Chinese companies should work together with academic institutions and establish local offices to understand local histories and customs. Academics can provide a pathway to engagement with local civil society organizations to work out environmentally-friendly and sustainable ways to construct Chinese projects.
Gatra Priyandita is a PhD candidate at the Australian National University. He is also currently a visiting research fellow at the University of Indonesia.
Trissia Wijaya is a PhD Candidate at the Asia Research Centre, Murdoch University. Her research interests are in ASEAN-China relations, state-business relations, and political economy in East Asia.