Afghanistan and India's Cricket Diplomacy
What a recent Test Match tells us about Afghan-Indian relations.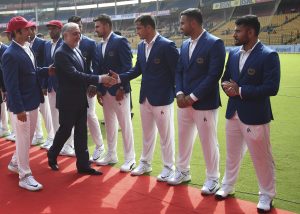 It is not often that a sporting event between two countries is deemed significant enough to warrant statements by their respective heads of government. Yet at a stadium in Bengaluru last week, prior to the commence of a cricket Test Match between India and Afghanistan, statements from both Indian Prime Minister Narendra Modi and Afghan President Ashraf Ghani were read out to the crowd and the live television audience. The game, known as the Indo-Afghanistan Friendship Series, was significant not just for its indication of Afghanistan's rapid ascension towards playing their first game in premier format of sport, but for the wider relationship between the two countries as well.
In his statement Modi made note of the Afghan cricket team's potential as a nation-building institution, and India's support for this, stating, "Today cricket is unifying force for the people of Afghanistan. India takes pride in being shoulder-to-shoulder with Afghanistan in this journey." Making note of Afghanistan cricket's trajectory in the midst of the country's troubles, Modi added, "These achievements have come about in challenging and difficult circumstances. This demonstrates the indomitable Afghan spirit to overcome all challenges and realize aspirations for a purposeful, stable, united and peaceful nation."
Ghani's statement focused on the circumstance that lead to Afghanistan becoming a competitive force in world cricket, declaring, "As President of Afghanistan, I welcome their maiden Test match against India. I am proud of the men who championed cricket in Afghanistan in the dawn of the century and believed in themselves that one day Afghanistan will play against the best in the world."
Here Ghani was alluding to the origin story of Afghan cricket. With a significant portion of its population displaced by the Soviet invasion in the 1980s, the sport gained popularity among the children in refugee camps around Peshawar in Pakistan (where the sport is just as popular as in India). Upon returning to Afghanistan in the early 2000s, the sport's new Afghani enthusiasts quickly set about creating the formal structures required to form a national team and begin competing internationally.
Their success in doing so has been astonishing. The Afghan national team quickly surpassed countries with much longer histories and institutional frameworks with the sport, taking only a decade to ascend from playing Division 5 of the world cricket structures in 2008, to being hosted by the world's best team at the elite Test Match level last week.
To those unfamiliar with cricket, the sport is further complicated by its three formats — Twenty20, One Day International (ODI), and Test Cricket. These different formats concern the amount of time dedicated to the game, with Twenty20 and ODI cricket being the shortest forms of the game, while Test Cricket is the traditional, lengthy, five-day version of the sport. Each format requires a different set of skills and tactical approaches, and can be considered highly distinct from each other. Afghanistan's rapid success in the sport has been built on the team's ability to quickly adapt to requirements of the game's shorter formats.
However, to cricket purists, the five-day version of the game is its prestige format. It is also the most difficult, where patience and tactical nous take precedence over power and passion. The nature of the format has made it the sport's exclusive club, the preserve of the elite teams considered strong enough to compete over a five-day period. Last year, consolidating their trajectory, Afghanistan were granted Test-playing status, which also afforded them full membership of the International Cricket Council — the governing body of the sport — becoming one of only 12 Full Members. This has been an incredible accomplishment, obtained in a short period of time by a country with limited resources and pronounced internal difficulties.
The Test Match against India was the country's first with its new status. Shifting from the shorter forms of the game where they have become highly competitive to the more complex requirements of Test cricket was always going to be a substantial challenge, and in the match held in Bengaluru the formidable India side secured an easy, and often brutal, victory.  Despite Afghanistan's recently acquired elite status, a large gulf in skill and experience remains between it and a team like India. However, the symbolic component of the game should not be subdued by the result.
In particular, the hospitality shown toward Afghanistan by India stands out. It is interesting to note that India refused to host any Test matches against Bangladesh until 2017, despite its neighbor acquiring Test status in the year 2000. The Board of Control for Cricket in India (BCCI) extending its arm so quickly to Afghanistan would most likely have been advanced by the Indian government's geostrategic calculations. This welcoming approach to the Afghan team can be seen as an important component in advancing India's regional influence, and assisting its interests in the creation of a secure and stable Afghanistan for overall regional stability.
This soft power approach is compounded by the operational framework for the sport India has granted the Afghanistan team. Lacking facilities, and in particular the ability to host games, in Afghanistan, Greater Noida Stadium, outside Delhi, has become the Afghanistan team's training facility, having shifted from their previous base in Sharjah in 2015. India has also provided Afghanistan with the use of a stadium in Dehradun, Uttarakhand, where the team hosted Bangladesh in a series of Twenty20 games in the week prior to the match against India (defeating Bangladesh 3-0).
The BCCI has also pledged to assist junior teams from Afghanistan to play in India, as well as provide assistance for the improvement of coaching, umpiring, and other technical support roles. Alongside this, the Indian government recently provided $1 million for the construction of a cricket stadium and adjoining facilities in Kandahar. The stadium was inaugurated by the Indian ambassador to Afghanistan in April of this year, laying some of the groundwork to improve the domestic capabilities for the sport to consolidate its increasing prominence in the country.
These contributions to the progress of cricket in Afghanistan form part of India's broader development strategy in the country. Since 2001 India has contributed around $2 billion to development programs in Afghanistan, making New Delhi the fifth largest donor to the country (as of July 2017). Another $1 billion of funds has been pledged for projects yet to be identified (with India's lower costs, these figures underestimate Indian aid's impact). This funding has focused on capacity building in spheres such as education, health, agriculture, skill development, women's empowerment, energy, infrastructure, and strengthening of democratic institutions of Afghanistan. New Delhi also offers 1,000 scholarships a year to Afghan students to study at universities in India.
The Indian government has also funded highly visible infrastructure projects like the construction of the Salma Dam in Herat province (also known as the Afghan-India Friendship Dam), and the $90 million dollar Parliament building in Kabul. The funding for the latter is very symbolic of India's democratic credentials, where other influential neighbors like Iran and Pakistan have partial and patchy relationships to democracy. Modi attended the inaugurations of both these pieces of vital infrastructure, visiting Afghanistan twice in a six month period.
These projects seem to have burnished India's image as a positive development partner among the Afghan public, who have previously seen foreign powers not as helpful contributors, but invaders, oppressors, or nefarious schemers. India's cultural arm further assists with New Delhi's soft power credentials; with limited local programming on Afghan television, Indian soap operas and films have become become highly popular forms of nightly entertainment. This has contributed significantly to the popularization of Hindi in Afghanistan, and the familiarization with Indian social and cultural norms.
While these cooperative and trust-building factors should have laid the groundwork for a greater security relationship between the two countries, this remains underdeveloped. Although a Indo-Afghan Strategic Partnership Agreement was signed in October 2011 — stating that "India agrees to assist, as mutually determined, in the training, equipping and capacity building programs for Afghan National Security Forces" — New Delhi has been hesitant to move too energetically with this cooperation. The Indian government remains acutely aware that any overt security cooperation with Afghanistan will create a significant reaction from Pakistan. Recent Pakistan Prime Minister Shahid Khaqan Abbasi told a forum at the Council of Foreign Relations last September that he sees no role for Indian security assistance in Afghanistan. However, India has recently financed the purchase of four Mi-24 attack helicopters for the Afghan security forces, providing assistance, but in a hands-off manner.
With India's capacity for security cooperation with Afghanistan limited by its strategic calculations vis-à-vis Pakistan, it has instead been able to pay greater attention to is developmental strategy in the country. While security remains a precondition for Afghanistan's development, strong domestic civic engagements are equally as important as coercive powers, and it seems that cricket will continue to form a significant component of India's approach. However, the idea of building a national institution around the Afghan cricket team remains complex. The sport in the country is dominated by Pashtuns, with Tajiks, Hazaras, and Uzbeks tending to prefer soccer. The success of the team and the attention it receives may be interpreted as a form of political favoritism in a country where ethnic identity remains stronger than national identity.
While placing the burden of creating a pan-Afghan identity solely on a sport remains ambitious, cricket in India could be deemed to have played a significant role in creating a pan-Indian identity within its own highly plural society. If New Delhi continues to see the development of the sport as an integral part of its strategic goals in Afghanistan (and wider global influence) then a careful and sophisticated promotion of the game outside of the Pashtun communities may need to form a major component of its engagement.