Image May Confirm Advanced Anti-Ship Capability of China's Type 093 Submarine
Video footage appears show a canister for the submarine-launched version of China's YJ-18 anti-ship cruise missile aboard a Type 093 sub.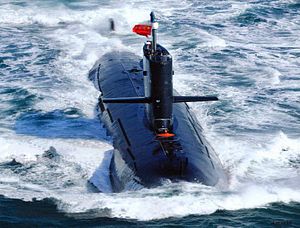 Recently released video footage of Chinese President Xi Jinping touring a Type 093B (also known as Type 093A) Shang-class nuclear-powered attack submarine (SSN) appears to show a canister for the submarine-launched version of China's YJ-18 anti-ship cruise missile installed aboard the vessel, according to a recently published analysis by IHS Jane's Defense Weekly.
The video footage shows a pale blue missile canister in the weapons compartment of the sub. "The canister bears a close resemblance to that referred to as a YJ-18 canister by retired [People's Liberation Army Navy] PLAN Rear Admiral Zhao Dengping during a university lecture given in September 2017," according to IHS Jane's.
Analysts for some time have speculated that improved Type 093 SSNs are armed with the YJ-18 anti-ship cruise missile (ASCM) launched from submarine torpedo tubes. As I reported previously, images from 2016 appear to depict PLAN sailors loading an anti-ship missile canister into a torpedo tube of an upgraded Type 093 SSN.
Next to the six 553-millimeter or 650-millimeter torpedo tubes, the improved Type 093A/B SSN and the cruise missile submarine variant (SSGN) of the class, designated Type 093G, are also believed to be outfitted with vertical launch system (VLS) cells for firing the YJ-18 ASCM and anti-ship variants of the CJ-10 cruise missile.
The YJ-10 is thought be one of China's most advanced ASCMs with an estimated operational range from 220 to 540 kilometers. According to Chinese media reports, the missile is fitted with a 300-kilogram high-explosive or anti-radiation warhead. The missile, reportedly capable of reaching a terminal speed of Mach 2, has an inertial guidance system using BeiDou Navigation Satellite System data.
Type 093A/B and Type 093G subs are reportedly comparable to U.S. Navy's Los Angeles-class Flight I and the more advanced Flight III variants in terms of stealthiness. The PLAN is expected to induct a total of six boats of both variants, According to the Office of Naval Intelligence:
The Shang-class SSN's initial production run stopped after only two hulls that were launched in 2002 and 2003. After nearly 10 years, China is continuing production with four additional hulls of an improved variant, the first of which was launched in 2012. These six total submarines will replace the aging Han-class SSN on nearly a one-for-one basis in the next several years. Following the completion of the improved Shang SSN, the PLA(N) will progress to the Type 095 SSN, which may provide a generational improvement in many areas such as quieting and weapon capacity.
 Based on open source intelligence, one Type 095 submarine has been completed with two more under construction. The PLAN is expected to build a total of five Type 095 subs, which may be used as underwater escorts for future PLA carrier strike groups. The PLAN revealed a Type-095 submarine simulator in 2015.