Image Reveals China's New Nuclear Attack Submarine
A newly published image allegedly depicts the latest variant of the PLAs's Type 093 nuclear-powered attack submarine.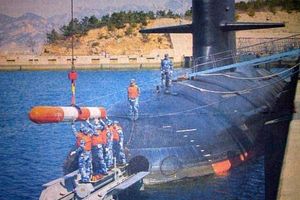 In June 2016, the Chinese People's Liberation Army-Navy (PLAN) published an image purportedly depicting the latest variant of a Type-093B (also dubbed Type-093A) Shang-class nuclear-powered attack submarine (SSN). The picture appears to show PLAN sailors loading an anti-ship missile canister, a buoyant capsule, into a torpedo tube.
The submarine's conning tower ('sail') features diving planes.  According to IHS Jane's Defense Weekly, a hydrodynamic structure after the conning tower "may be intended to help dissipate root vortices that emerge from the base of the sail, which can help reduce drag and noise."
Analysts over at Popular Science, believe that the hump is a vertical launch system (VLS) battery blended into the hull. Indeed, Chinese media reported in the past that upgraded Type-093 boats will be equipped with VLS. China Daily claims that the new subs are capable of firing the PLAN's most modern supersonic anti-ship missile (ASCM), the YJ-18.
The vertically-launched YJ-18 ASCM is purportedly specifically designed to defeat the U.S. Aegis Combat System and has often been described as a "carrier killer." Interestingly, the YJ-18, however, was not displayed during last year's grand military parade in China, as I noted in September 2015.
A 2016 Pentagon report to Congress on the Chinese military notes:
China continues to improve its SSN force, and four additional SHANG-class SSN (Type 093) will eventually join the two already in service. The SHANG SSN will replace the aging HAN-class SSN (Type 091). These improved SHANG SSNs feature a vertical launch system (VLS) and may be able to fire the YJ- 18 advanced anti-ship cruise missile (ASCM).
It has also been reported that the upgraded Type-093B subs are stretched versions of the original boats and feature a teardrop hull. Some analysts believe that this is due an attempt to accommodate a dry dock shelter for PLA Special Forces.
As I reported previously, the Type-093 Shang-class boat depicted in the picture could also be a nuclear cruise missile submarine (SSGN), designated Type-093G, and fitted with a large stockpile of cruise missiles.
This new type of SSGN boasts improved speed, reduced noise, and an increased operational range, according to Chinese state media. "The Type-093G is reported to be an upgraded version of Type-093… With a teardrop hull, the submarine is longer than its predecessor and has a vertical launching system," China Daily said.
As I explained elsewhere:
The Type-093G Shang-class are technologically on par with 1980s NATO nuclear-powered fast-attack submarines (i.e. roughly three decades behind current Western sub technology), according to some experts. The Taiwanese media reports that the upgrades on two Type-093G Shang-class subs were completed in December 2014 by the Bohai Shipyards in Huludao, while a third vessel is still in a dry dock.
Improved variants of the Type-093 Shang-class submarines are allegedly comparable to somewhere between the U.S. Navy's Los Angeles-class "flight I" and the advanced "flight III' in terms of stealthiness and other capabilities.
China is purportedly also working on an even more advanced variant of the Shang-class, designated Type-095. While no boat has been launched, the PLAN revealed a Type-095 sub simulator last year (See: "Revealed: China's New Carrier Killer Sub Simulator").
The Pentagon's Office of Naval Intelligence (ONI) said in a report that Type-095 submarines will "provide a generational improvement in many areas such as quieting and weapon capacity," in comparison to previous boats of the class.