India's Strategic Expansion in the Pacific Islands
Amid a changing geopolitical situation, India is turning its attention to the South Pacific.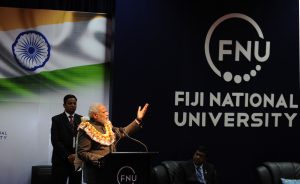 As India's politico-military orientation is adjusting to the change in the United States' Command structure and geostrategic orientation from the Asia-Pacific to Indo-Pacific, the region of Pacific Islands will get more strategic attention from India.
To start with, India's maritime strategic orientation is toward the rimlands of Eurasia, which is reflected in it giving greater strategic importance to the littoral areas in the greater Indo-Pacific region (such as the Bay of Bengal, Arabian Sea, and South China Sea). Therefore, the region of the Pacific Islands in Oceania had long been neglected in India's maritime strategic thinking.
However, this is about to change. India's maritime disposition seems to envisage having command of the sea in the Indo-Pacific, apart from securing its interests in the coastal areas.
Geostrategically, the Pacific Islands are getting increased attention from India as it connects Australasia to the Latin American subcontinent. Further, the region will face increased maritime traffic once the Trans-Pacific Partnership (TPP) is finalized.
The Pacific Islands are a part of the wider Asia-Pacific and now under the even wider Indo-Pacific region. Therefore, with U.S. Pacific Command being renamed as U.S. Indo-Pacific Command, it's expected that India's force structure — including its maritime strategic orientation — will also shift to include the South Pacific in general and Pacific Islands in particular.
As India is expanding its maritime reach to the Pacific Islands, the region falls organically into China's maritime strategic thinking and expansion as a part of its oft-stated "island chain" strategy. Beijing largely benefited with good terms with Washington during the Cold War, paving the way for its politico-military expansion in the Pacific Islands (which began quietly in the early 1980s).
India's Pacific Islands Presence
India's current maritime presence in the Pacific Islands is limited, as its Eastern Fleet based in Vishakhapatnam has operations up to the Straits of Malacca but not as far as the Pacific Islands. This may change if India acquires another fleet based in the strategically located Andaman and Nicobar Islands for greater maritime engagement. Though not openly articulated, India's ambitious approach in the Indo-Pacific as spelt out by the Indian Navy's Maritime Security Strategy Document 2015 could only be achieved if it gets another fleet in the Andaman and Nicobar islands, which will improve India's military engagement with the South Pacific.
At present, India doesn't have a permanent military presence in the Pacific. Diplomatically, however, India has shown interest in South Pacific affairs by participating in the Pacific Islands Forum (PIF) annually from 2002. India also has begun to provide foreign aid to the islands in the South Pacific by offering soft loans for development projects.
The above aspect got increased attention during the second summit of the India-Pacific Islands Forum in Jaipur in August 2015, which pushed the limits of India's Look East and Act East policy to the South Pacific region. During that summit, 12 of the 14 Pacific Island countries pledged their support for India's Permanent Membership in the United Nations Security Council (the two others, Cook Islands and Niue, don't have a vote in the United Nations).
Earlier, during Indian Prime Minister Narendra Modi's trip to Fiji in November 2014, the scope and range of India's diplomatic engagement with the Pacific Islands was mooted. The trip was a game changer in India's outreach to the Pacific Islands as Modi invited the head of states of all the 14 Pacific Island countries to Suva, Fiji's capital city, as a part of the first Indo-Pacific Islands Summit which was largely modeled on India's engagement with African countries through the Indo-African Summit. It involved the establishment of Forum for India and Pacific Island Countries (FIPIC).
One important aspect that was largely overlooked during Modi's trip was the absence of India's diplomatic establishment from New Zealand at the summit. That changed during Indian Minister of State for External Affairs V. K. Singh's visit to Suva in May 2017 as a part of the India and Pacific Islands Development Conference, with the Indian high commissioner of New Zealand's participation. The Indian diplomatic mission in New Zealand has concurrent accreditation to three Pacific Islands, Kiribati, Nauru, and Samoa, making it a mix of primarily Micronesian and Polynesian diplomatic outreach.
In fact, India at present has permanent diplomatic postings only in Fiji and Papua New Guinea, none with military attaches.
However, India has had military attachés in Chile. This South American country qualifies as a South Pacific power thanks to its considerable maritime reach in the South and Southeast Pacific. India's military attachment in Chile involves active military cooperation, which helped Chile's Maritime Forces to develop amphibious and logistics capabilities.
Another country through which India will engage the Pacific Islands will be Indonesia. In fact, during Modi's recent trip to Indonesia, India endorsed Indonesia's much debated concept of the Maritime Fulcrum Vision, which envisages Jakarta's maritime expansion in the Indo-Pacific region. Indonesia will follow the suit by endorsing India's Act East Policy stretching to the Pacific Islands.
Diplomatically, as well, Indonesia will help expand India's reach in the Pacific Islands. At present, Indonesia is a part of the Melanesian Spearhead Group (MSG) which is composed of the four Melanesian states of Fiji, Papua New Guinea, Solomon Islands, and Vanuatu, and the Kanak and Socialist National Liberation Front of New Caledonia. In June 2015, Indonesia was recognized as an associate member.
The MSG is an alternative to the traditional Pacific Islands Forum, where India's engagement has been increasing economically and diplomatically over the years.
India is expected to seek membership in the MSG as a tactical move to counter China's expansion in the South Pacific region, especially in the Melanesian countries where its influence is increasing.
As China is contemplating a naval base in Vanuatu, India's maritime presence in the Pacific Islands may be welcomed by countries such as Australia, New Zealand, the United States, Indonesia, and even France.
A Chinese base in Vanuatu would have the potential to be turned into a military "intelligence platform" especially due to its vicinity to Australia and New Zealand, both close allies of the United States and part of the Five Eyes Intelligence Alliance.
Interestingly, France has military bases and overseas territories in the South Pacific. Paris recently signed with New Delhi a Logistics Exchange Agreement similar to the India-U.S. Logistics Exchange Agreement. The India-France agreement envisages Indian access to French military bases in the western Indian Ocean. The scope of the India-France agreement will be extended to the South Pacific, where India might be given the opportunity to construct bases in the Pacific Islands much like it was thought out in the Indian Ocean.
Military cooperation might include Indian forces operating alongside their French, New Zealand, and Australian counterparts in such exercises as the biannual Croix du Sud. A further development of India's engagement in the Pacific Islands will include India sharing more active intelligence from France, Australia, New Zealand, and the United States.
The Fiji Factor
India's greater engagement with the Pacific Islands will be tested by Fiji's elections this year. Despite Fiji being usually considered a Melanesian country just outside the Polynesian Triangle, its culture and politics are influenced by Polynesia. It also has a significant Indo-Fijian population, about 40 percent of the total population, wielding political influence, despite the coup in 1987 aimed against them.
In the last 12 years, Fiji has come a long way both politically and economically under Frank Bainimarama, who took power through a coup in 2006 and then consolidated the power as prime minister in 2014 following the general elections. If Bainimarama further consolidates his power following this year's elections then Fiji may start asserting its political weight through membership in other regional forums, such as the Polynesian Spearhead Group, in addition to asserting its position in the MSG.
Bainimarama has supported the idea that Fiji, with its strategic location, could be converted into the South Pacific's Singapore — largely helped by economic investment from overseas, especially from China but also India. India was a part of Fiji's Look North Policy, which began in 2006 when Suva was marginalized by New Zealand and Australia.
China has used its economic leverage to fund and undertake numerous infrastructure projects such as port dredging and road building that have a "dual use" potential: they can be used for civilian and military purposes alike.
As India is trying to expand its reach in the Pacific Islands it will take note that MSG group countries may set up a regional security force named Legion with its headquarters in Suva. The Legion will be staffed by MSG administrators, and consist of military, police, border control, and customs personnel. Fiji and Papua New Guinea will be contributing the bulk of personnel to the Legion's military and policing units. It's expected that the Legion will be patronized with active Indian military and technical aid, especially after the Fijian elections this year.
Through such initiatives, the military dimension of India's diplomatic endeavors in the region will predate Indian military bases and military attaches (especially naval attaches) in the Pacific Island countries.
India can also expand its presence in the South Pacific will be through its diaspora. India has a considerable diaspora presence in Australia, New Caledonia, Fiji, and New Zealand, which provide an open conduit for information exchanges between the Southwestern Pacific neighbors and the Indian homeland.
Unlike the Chinese diaspora in the South Pacific, the Indian expatriate community is diverse in its loyalties and not as unified in its support for the Indian state or any particular political party. It is therefore not considered to be a source of espionage or influence-peddling in the same way as its Chinese counterpart, a welcome sign among the counties in the South Pacific.
In conclusion, India's expanding reach in the South Pacific in general and Pacific Islands in particular will be a part of its expanding maritime reach. India will be improving its existing diplomatic, economic, and cultural ties in the region as an overall part of its strategic outreach in the Indo-Pacific and beyond.
Balaji Chandramohan is a Visiting Fellow with Future Directions International.