The Battle for Bangladesh: India vs. China
In the battle for influence in Bangladesh, India has long been on top. But China has made inroads.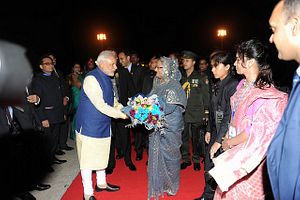 The India-China tug-of-war for influence in Bangladesh began on August 31, 1975 when China became one of the last countries to recognize independent Bangladesh. India had been Bangladesh's clear partner, deploying its military to fight alongside the forces pushing for Bangladesh's (then East Pakistan's) independence. Now the Chinese-Indian rivalry for Bangladesh is in the news again as the Indian navy chief recently stopped in Bangladesh to inaugurate the first ever coordinated patrol (CORPAT) from the port city of Chittagong. Last year, two Chinese-made attack submarines were commissioned in the port, an event India watched unhappily.
Local media reported that Indian Navy Admiral Sunil Lanba, chief of the naval staff, traveled to Bangladesh on the invitation of the chief of naval staff of Bangladesh, Admiral Nizamuddin Ahmed. During the visit, the two navy chiefs jointly inaugurated the India-Bangladesh CORPAT.
Lanba had visited Bangladesh in November 2017 after the Indian commentariat reacted negatively to Dhaka's taking delivery of the Chinese subs, underscoring a boost in China-Bangladesh relations. Indian Defense Minister Manohar Parrikar also visited Dhaka within a few days of the navy chief's trip in 2017.
This week, in Bangladesh, Lanba met with the country's president and prime minister.
What does this visit tell us about the state of Indian and Chinese influence in Bangladesh? A look back on history gives some context.
Bangladesh was born with direct military aid from India and its ruling party, the Awami League, maintained close ties to Delhi. The party lost power in August 1975 when its leader, Sheikh Mujibur Rahman, was killed by a group of junior army officers.
After August 1975 a new regime came to power in Bangladesh and began negotiations with China to break India's overwhelming influence. Ziaur Rahman, army chief of staff in 1975 and later president, initiated the program. He formed a political party, the Bangladesh Nationalist Party (BNP), in 1978. The BNP is now the major opposition in the country with the Awami League again in power.
The post-1975 era was a golden time for China in Bangladesh in terms of civil and military cooperation, but also in the realm of foreign policy. The insurgency in northeast India was sheltered by Bangladesh and supported by China. Views on India and China polarized Bangladeshi domestic politics. This period lasted until 1996, when the Awami League returned to power and with it Indian access and influence. Nevertheless, China's longtime support of the Bangladeshi military — via supplies and training — was a barrier for India.
In 2009, when the Awami League returned to power once more — a position in which it remains to this day — the party became much more open about the depth of relations with India. Bangladesh accepted a $1 billion soft loan from Indian in 2010. It was the largest ever credit package offered by India to any nation. In 2017, India announced another $5 billion loan, with $500 million set aside for defense purchases from India.
China, nevertheless, showed keen interest in building a deep sea port at Sonadia in Bangladesh. The deal was expected to be signed during Prime Minister Sheikh Hasina's 2014 trip to China, but it never happened. The project remains murky, lacking an update with rumors that the initiative was blocked by India.
In 2017, as mentioned earlier, the Bangladesh Navy took delivery of two Chinese submarines. The Chinese subs were the cheapest options but India nevertheless was uncomfortable with the arrangement. Later, Delhi expressed interest in offering submarine training for the Bangladesh Navy. Further developments on that account have not been publicized but Lanba's trip and the CORPAT announcement certainly emphasizes India's desire to have a physical presence in Bangladesh and the surrounding waters.
Bangladesh is slated for elections later this year. A lot can happen behind the scenes. Beijing and Delhi's contest for Dhaka's attention surely will play a part in the election — though for now it looks like India is on top.
Shakil Bin Mushtaq is a Bangladeshi journalist.