International Court Rules in Favor of Bangladesh on Maritime Dispute With India
The two South Asian neighbors resolved a long-standing maritime dispute.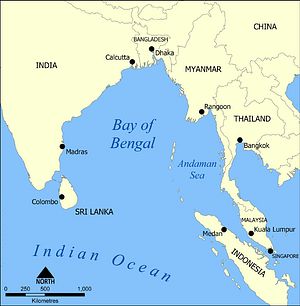 A United Nations tribunal ruled in favor of Bangladesh and against India regarding a sea boundary dispute between the two countries. Both countries welcomed the decision of the U.N. tribunal which puts an end to a decades-long dispute between the two South Asian neighbors. The decision was taken by the Hague-based Permanent Court of Arbitration (PCA) and concerned a disputed area in the Bay of Bengal. According to Reuters, the tribunal awarded Bangladesh nearly 80 percent "of an area sprawling over 25,000 sq km (9,700 sq miles)." The verdict is binding on both countries.
The court's verdict has important implications for the relationship between India and Bangladesh and for Bangladesh's ability to economically exploit the waters in the Bay of Bengal. Following this decision, Bangladesh will have greater leeway to explore for oil and other natural resources in the once-disputed waters, opening up a potential economic boon for the country.
Furthermore, the decision is likely to expand the available space for bilateral diplomacy between India and Bangladesh. Diplomatic rhetoric from both sides has praised and emphasized the fact that both countries were able to come an understanding on this dispute via international arbitration and peaceful methods. "It is the victory of friendship and a win-win situation for the peoples of Bangladesh and India," Bangladeshi Foreign Minister Abul Hassan Mahmood Ali told reporters on Tuesday. "We commend India for its willingness to resolve this matter peacefully by legal means and for its acceptance of the tribunal's judgment," Ali further added.
"The settlement of the maritime boundary will further enhance mutual understanding and goodwill between India and Bangladesh by bringing to closure a long-pending issue," the Indian Ministry of External Affairs said in a statement according to Reuters. "This paves the way for the economic development of this part of the Bay of Bengal, which will be beneficial to both countries," it added.
According to The Hindu, the court decided in favor of Bangladesh on Monday but reports emerged on Wednesday due to a media embargo. Although both countries had disputed the waters for decades, Bangladesh decided to pursue international arbitration at the PCA in 2009 under the terms of the United Nations Convention on the Law of the Sea (UNCLOS). The hearings concluded late last year.