The Trump-Kim Summit: The View From Japan
Japan remains cautious about North Korea's intentions.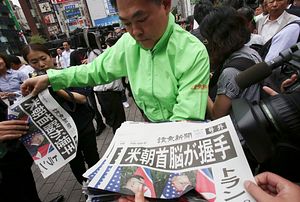 Japanese Prime Minister Shinzo Abe has indicated he is open to direct talks with Kim Jong Un in the wake of the North Korean leader's summit meeting with U.S. President Donald Trump. Tokyo – which had long been calling for North Korea to show concrete steps toward denuclearization – responded cautiously to U.S.-North Korea talks in Singapore on Tuesday as it awaits further details from the historic negotiations.
Abe characterized the joint declaration – which includes a pledge by North Korea to "work toward complete denuclearization of the Korean Peninsula" – as only a starting point. It was, Abe said, "a step toward the comprehensive resolution of various issues." This comment reflects the fact that many of the details surrounding the future of North Korea's nuclear arsenal and ballistic missiles – including ones within range of Japan – will have to be worked out in further negotiations.
Abe thanked Trump for mentioning North Korea's abduction of Japanese nationals in the 1970s and 1980s – a topic that Japan has prioritized – but noted it would have to be taken up bilaterally. "I'm determined that Japan will have to directly face North Korea and resolve [the abduction issue] bilaterally," Abe told reporters on Tuesday, according to Kyodo News. He is expected to speak to Trump by telephone soon.
Mike Pompeo, the U.S. secretary of state, telephoned Japanese Foreign Minister Taro Kono and South Korean Foreign Minister Kang Kyung-wha on Tuesday to give them what he described as a "brief readout" of the summit. Japan would be particularly interested in any insights into Kim's intentions, given that Abe has not had a summit meeting with the North Korean leader in the recent flurry of talks. South Korean President Moon Jae-in, by contrast, has met twice with Kim and was instrumental in brokering the U.S. talks.
Abe had visited Trump at the White House last Thursday, hoping to ensure Japan's interests remained top of mind in the Kim summit. Japanese officials said it was the 30th time Trump and Abe had spoken, either in person or on the telephone. Abe extracted a renewed commitment from Trump to raise the abduction issue, which Japan says must be satisfactorily resolved as one of its preconditions for normalizing relations with North Korea. Japan has also been pushing for the focus to remain on missiles of all ranges – rather than merely the intercontinental ballistic missiles that could reach the U.S. mainland – and for the "complete, verifiable, and irreversible dismantlement" (CVID) of North Korea's nuclear weapons and other weapons of mass destruction.
Mieko Nakabayashi, a professor in U.S.-Japan relations at Waseda University in Tokyo, said Trump had done as Abe wished by raising the abduction issue, but most Japanese people expected that ultimately it would be a matter for resolution directly between Tokyo and Pyongyang. "Prime Minister Abe has to do something to bring Kim Jong Un into negotiation face to face," Nakabayashi told me in an interview after the summit. She suggested that the prospect of economic assistance was a card that Japan might be able to play, although its leverage was limited compared with when the previous two Japan-North Korea summits in the early 2000s: "China is much richer than the time when Prime Minister Koizumi met with Kim Jong Il [in 2002 and 2004], so maybe China can provide more economic relief to North Korea."
Nakabayashi said the fact that the agreement didn't mention CVID could be interpreted as a sign that North Korea was not truly sincere about denuclearization. A lot would depend on the follow-on negotiations, but she was "not that optimistic yet."
Japan was the strongest supporter of Trump's "maximum pressure" campaign against North Korea throughout the course of the past year,  but Trump recently dropped that language in a reflection of the switch to diplomacy. In a sign of continuing caution in Tokyo, Defense Minister Itsunori Onodera said: "Even if a certain promise is made at the summit, we should be careful about lowering our guard until we can confirm that specific steps have been taken."
One area of interest will be any potential implications for Japan-U.S. joint military exercises. Trump said at a press conference following the summit meeting that he would end U.S.-South Korea "war games," which he described as "provocative" and expensive. Trump made no mention of Japan in that context. However, when asked who would be footing the bill for the costs of denuclearization, Trump said he thought both Japan and South Korea would "help them very greatly."