After North Korea, Pompeo Visits Japan to Meet With US Allies
The abductee issues continues to complicate Japan's approach to North Korea.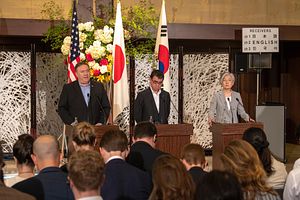 After visiting Pyongyang, U.S. Secretary of State Mike Pompeo traveled to Tokyo for a trilateral meeting with Japan and South Korea. On Sunday, Pompeo, Japanese Foreign Minister Taro Kono, and South Korean Foreign Minister Kang Kyung-wha held their second trilateral meeting in less than a month. The three countries agreed to bolster cooperation in dealing with North Korea.
At the trilateral meeting, Pompeo's most important task was to push back against accusations that the United Staes had "softened" on North Korea. At the joint news conference, Pompeo insisted that the new U.S. phraseology – "final, fully verified denuclearization" – is the same as the Japan-U.S.-South Korea agreed-upon language: "complete, verifiable, and irreversible denuclearization." In the midst of U.S. news reports that North Korea is continuing work on its nuclear facilities, Japan and South Korea are anxiously trying to gauge how sincere North Korea is about "denuclearization of the Korean peninsula" as Kim Jong Un committed to at the June 12 U.S.-North Korea summit. Words are cheap and can be spun to mean whatever political leaders want them to mean for their domestic political purposes, and the United States' inability to extract either a timeline or any real concessions from North Korea is leading even U.S. allies to question what Washington is really aiming for through these talks.
This pessimism is widely shared in Japan: according to a joint survey by The Yomiuri Shimbun and The Hankook Ilbo, 83 percent of Japanese respondents do not think the complete denuclearization of North Korean will be realized in the near future.
North Korea has long been a thorn in Japanese security – not just because of the direct existential threat its weapons pose to Japan, but because of the implicit threat its weapons development poses to Japan-U.S. coordination. Japan has lived with the threat of North Korea for decades now. The game-changer this time is North Korea's acquisition of intercontinental ballistic missiles (ICBMs), which puts the United States' extended nuclear deterrence into play and threatens to "de-couple" the Japan-U.S. alliance.
The international threat environment is a real issue for Japan. But domestic politics – specifically Japanese Prime Minister Shinzo Abe's attachment to the issue of Japanese abductees, Japanese citizens taken by North Korean agents in the 1970s and 1980s – is not helping Japan's cause either. Japan officially recognizes 17 individuals as being abducted by the North, though it suspects many more were taken. Five were repatriated in 2002, and North Korea claims that eight others have died and the remaining four never entered the country.
Elevating the issue of abductees to the same level of importance as the issue of nuclear and missile weapons – as Abe has done time and time again – is problematic in at least two ways.
First, Abe is throwing up another obstacle to Japan-North Korea relations that he does not have to. This issue is not a total stalemate – but it does become a stalemate whenever the North decides it does not want to play this game with Japan. The 2014 Stockholm agreement had the theatrics of a breakthrough, but the North closed down the special panel to investigate the issue when Japan imposed sanctions in 2016 (in response to the North's continued nuclear and missile tests). "The North giveth, and the North taketh away" – the sooner Japan learns the futility of its existing diplomatic toolkit to get what it wants regarding the abductees, the sooner Japan can focus on the real threat that exists.
By focusing on the abductees, Abe is freely giving away diplomatic leverage to North Korea without gaining anything tangible in return. Take the issue of economic sanctions, for example. Pompeo emphasized economic sanctions "will remain in place until final, fully verified denuclearization as agreed by Chairman Kim occurs." Yet, the North is now saying it will not respond to Tokyo's request to resolve the abductees issues (which, incidentally, the North insists has already been "settled") without the lifting of Japan's unilateral economic sanctions. There are ways to finesse the issue, but it does appear that Japan is stuck between a rock and a hard place – thanks, ironically, to Abe's efforts.
By declaring again and again how important the abductees issue is, Abe is not even trying to hide Japan's pressure point. What makes it worse is that this is an issue that is so particular to Japan — North Korea can push on it selectively to irk Japan without upsetting the United States in any meaningful way. That's why Japan got excited with the possibility that David Sneddon – a U.S. citizen – may have been taken by the North Koreans, too.
Second, the emphasis on abductees causes friction in the Japan-U.S. relationship – whether it's because Tokyo is seen as holding up an agreement that Washington prefers, or because the U.S. is seen as pressuring Japan to get its way. It also creates the unhelpful perception that Japan "owes" the United States each time Japan, as a supplicant, has to ask its ally to raise the issue with North Korea.
Abe, representing the government of Japan, accountable to the people of Japan, has a solemn responsibility to guarantee their security. And he should fight for the safety of every last citizen of Japan. Steps he can take toward this goal could include more frequent patrols to intercept potential North Korean infiltrators or training citizens to be on-guard against future North Korean kidnapping attempts. But equating an investigation into the fates of 12 individuals – an investigation that Japan cannot participate in or independently verify – is not a project he should be expending his diplomatic capital on now. Japan is facing a more pressing issue.