US to Commission New Fast-Attack Submarine in September
The U.S. Navy recently announced that it will commission its latest nuclear-powered fast-attack sub at the end of September.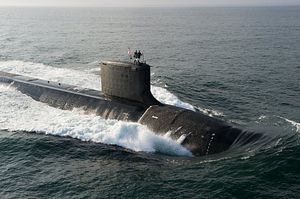 The U.S. Navy's latest Virginia-class nuclear-powered fast attack submarine (SSN), the future USS Indiana (SSN 789), will be commissioned at the Navy Port at Cape Canaveral Air Force Station in Port Canaveral, Florida on September 29, the service said in a June 12 statement.
The SSN, which completed its initial set of sea trials (known as alpha trials) last month, will be the 16th Virginia-class boat to join the fleet and the sixth Block III contract submarine. (Block I and II subs were already delivered to the Navy.) In comparison, to previous variants, Block III SSNs of the Virginia-class are fitted with the so-called Virginia Payload Modules (VPM) – larger tubes that increase the ship's missile payload. As I explained elsewhere:
While the first 10 Block I and Block II Virginia-class submarines feature 12 individual 21-inch diameter vertical launch tubes able to fire Tomahawk Land Attack Missiles (TLAMS), "the Block III submarines are built with two-larger 87-inch diameter tubes able to house six TLAMS each," according to the U.S. Navy website. The new 87-inch tubes have been designed to accommodate future missile systems in addition to the Tomahawk.

In addition, Virginia-class Block III boats are equipped with four torpedo tubes for MK48 torpedoes. Furthermore, next to a redesigned bow, Block III Virginia-class boats also contain "a water-backed Large Aperture Bow (…)  sonar array that replaces the air-backed sonar sphere found in the first 10 Virginias." This, in combination with the its so-called fly-by-wire capability, enables the boat to perform important intelligence and surveillance missions.
In comparison to previous variants, approximately 20 percent of Block III SSNs have been redesigned to reduce acquisition costs. This includes a reconfigurable torpedo room which can accommodate Special Operations Forces "and all their equipment for prolonged deployments and future off-board payloads," the Navy says. "Through the extensive use of modular construction, open architecture and commercial off-the-shelf components, the Virginia class is designed to remain at the cutting edge for its entire operational life through the rapid introduction of new systems and payloads."
Virginia-class boats are multipurpose platforms designed to seek and destroy enemy subs and surface combatants. The SSNs can also be used to conduct land strike missions with Tomahawk cruise missiles. The future USS Indiana was laid down in 2012 and christened in April 2017. The boat was launched in June of the same year. The boat is expected to continue its sea trials off the Virginia coast in the weeks ahead.