US Navy's Newest Fast-Attack Submarine Commissioned
The 17th Virginia-class nuclear-powered attack submarine was commissioned on February 2.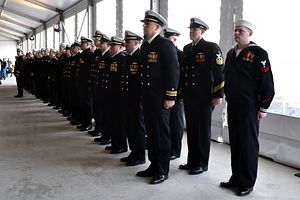 The U.S. Navy commissioned its newest Virginia-class nuclear-powered attack submarine, the future USS South Dakota (SSN 790), during a ceremony at Naval Submarine Base New London in the eastern United States on February 2.
The USS South Dakota is the 17th Virginia-class attack submarine and the seventh Virginia-class Block III submarine.  The boat was christened in October 2017 and delivered to the U.S. Navy at General Dynamics Electric Boat Shipyard in Groton, Connecticut in September 2018. The U.S. Navy's Block III fleet will consist of a total of eight submarines.
Virginia-class attack Block III submarines are made with the new Virginia Payload Tubes or Virginia Payload Module (VPM) — two large-diameter tubes that replace 12 individual vertical launch tubes on Block I and Block II boats — designed to lower costs and increase missile-firing payload capabilities. As I explained previously:
While the first 10 Block I and Block II Virginia-class submarines feature 12 individual 21-inch diameter vertical launch tubes able to fire Tomahawk Land Attack Missiles (TLAMS), the Block III boats are built with two-larger 87-inch diameter tubes able to house six TLAMS each (…) The new 87-inch tubes have been designed to accommodate future missile systems in addition to the Tomahawk.

In addition, Virginia-class Block III boats are equipped with four torpedo tubes for MK48 torpedoes. Furthermore, next to a redesigned bow, Block III Virginia-class boats also contain a water-backed Large Aperture Bow (…) sonar array that replaces the air-backed sonar sphere found in the first 10 [Virginia-class subs.] This, in combination with the its so-called fly-by-wire capability, enables the boat to perform important intelligence and surveillance missions.
Virginia-class SSNs can carry up to 24 torpedoes and Tomahawk cruise missiles.  Manned by a crew of about 135 sailors, the USS South Dakota is the first submarine of the class to feature various technological innovations including quieting technology for the engine room, quieting coating materials for the sub's hull, and a newly designed vertical array. The new technologies are part of the U.S. Navy's concept of "acoustic superiority" to make the submarine stealthier while conducting operations and simultaneously allow the sub to detect enemy warships earlier.
Virginia-class boats can be deployed for a wide range of operations including anti-submarine warfare, anti-surface ship warfare, strike warfare, special operations forces support, intelligence, surveillance and reconnaissance, irregular warfare, and mine warfare missions.
"Competitors seek to challenge us and challenge our dominance in the undersea. For that reason, I submit the nation must continue to build and maintain the finest submarines in the world," Vice Admiral Charles Richard, commander of the U.S. Navy's submarine forces, said during the commissioning ceremony.
"South Dakota will soon enter the fleet with stealth, flexibility, and endurance. Traveling silently through the world's oceans undetected, collecting information, preparing for battle, and if necessary, striking from the deep swiftly without warning; answering the nation's call."
U.S. ship maker Huntington Ingalls Industries (HII) launched the latest Virginia-class SSN,  the future USS Delaware (SSN-791), in December 2018.