Bridging India-China Strategic Distrust in the Indo-Pacific
The recent maritime affairs dialogue is a format that India and China can build on to bridge the gap between them.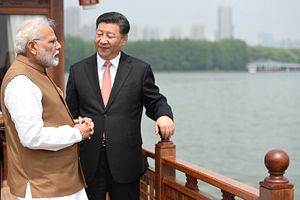 The second round of India-China Maritime Affairs Dialogue was held last week in Beijing, China. The Indian delegation was led by a joint secretary from the Ministry of External Affairs while the Chinese delegation was led by the director general of the Ministry of Foreign Affairs' Asian affairs department. This new dialogue mechanism dealing with maritime affairs between India and China provides an opportunity for both countries to exchange views on numerous issues of mutual interest.
The press release issued by Indian Ministry of External Affairs stated:
The Indian side elaborated on India's vision for the Indo-Pacific region as articulated in Prime Minister Modi's keynote address at this year's Shangri-La Dialogue in Singapore. Both sides emphasized the need to further strengthen maritime cooperation as an important area of India-China bilateral relations and as a platform to strengthen political and strategic mutual trust between the two countries.
As two major powers, India and China have wide and overlapping maritime interests in the waters of Indo-Pacific region. To prevent competition from turning into conflict in the maritime domain, both countries are trying to strengthen their lines of strategic communication. A bottom-up diplomatic engagement approach starting with government officials and reaching up to higher political levels will be helpful in bridging the strategic mistrust gap between India and China.
On one hand, China views India with suspicion on issues like the Quad, Malabar exercises, and more . China considers India's Indo-Pacific strategy as an American ploy to contain China's rise. On the other hand, India views Chinese activities at Gwadar in Pakistan, in the Maldives, and in Sri Lanka as steps to encircle India. Thus, this maritime affairs dialogue can help both nations in forging a common understanding and help in building mutual respect.
The Wuhan summit, at which the highest political leaders from both sides discussed and exchanged views, sets a good foundation. In the past, India and China have had many shared views and interests on the global stage. In fact, the India-Russia-China trilateral and the BRICS grouping evolved from this synergy of converging interests. On issues like climate change and global trade, both nations have many of the same concerns regarding Western domination in making rules at multilateral forums. With emergence of China as a powerful economic giant in the past decade, this engagement has weakened partly because China seemed keener on reaching bilateral understanding with major Western powers while trying to contain India within South Asia.
Given the stakes that India and China have in each other's stability and success in the Indo-Pacific region in general and the Indian Ocean and South China Sea in particular, it is imperative that government officials from both sides are in regular communication.
Siddharth Singh is a researcher pursuing his Ph.D. in Indo-Pacific from Jawaharlal Nehru University, New Delhi.