China to Gift Hydrographic and Surveillance Vessel to Fiji
The transfer marks growing ties between Beijing and Suva.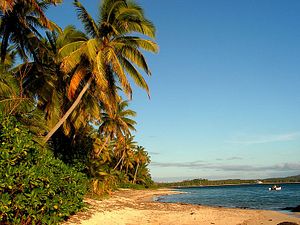 Last week, the Fiji Navy announced that it would receive a new surveillance and hydrographic vessel from China. Named RFNS Kacau, the vessel will join the Fijian Navy's main fleet later this year.
The vessel would contribute to Fiji's maritime domain awareness. The island state has an exclusive economic zone spanning 1.2 million square kilometers. Fijian reports have not indicated which specific former Chinese naval vessel is being transfered.
The transfer follows the use of King's Wharf in Fiji by vessels of the People's Liberation Army-Navy for resupply. Earlier this year, the Fiji Sun reported that the PLAN's Yuan Wang 7 research vessel had refueled and restocked at King's Wharf multiple times in recent years.
Amid concerns that the vessel was conducting surveillance of Australian assets, Qian Bo, China's ambassador to Fiji, issued a public denial, calling reports of the PLAN using Fijian territory to facilitate surveillance operations a "sheer fabrication."
"The Chinese space surveillance ship comes to Fiji once or twice every year. It comes mainly for replenishment of the ship. And this ship, their task is actually to check the satellites when the Republic (People's Republic of China) is launching them from the mainland," he told the Fiji Times at the time.
"The Chinese government always respects Fiji's developing path of independence and conforming to its own national conditions," Qian had said in an interview with Xinhua earlier this year.
"China's assistance to Fiji is selfless and sincere with no political conditions attached. China's assistance to Fiji is unswerving and will not be influenced by the changing international and regional landscapes. It targets the wellbeing of the Fijian people."
Relations between China and Fiji have existed for more than four decades. Fiji was the first Pacific Island state to grant diplomatic recognition to the People's Republic of China in 1975; the two countries established formal diplomatic ties that year.
Ties between Fiji and China have accelerated in recent years. Fiji has welcomed China's Belt and Road Initiative and, in 2017, it shut down its Trade and Tourism Representative Office in Taiwan—a move that the country's government said was not due to Chinese pressure. China has worked to diplomatically isolate Taiwan in recent years and the Fijian move was justified on the ground of the country seeking to better use its limited resources.