India, Japan to Hold First-Ever Military Exercises Involving Ground Troops
The Japanese defense minister is reportedly arranging a visit to India in August to discuss expanding military exercises between the two countries.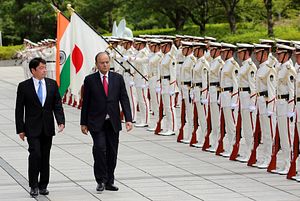 Japanese Minister of Defense Itsunori Onodera is reportedly traveling to India in mid-August to meet his Indian counterpart, Defense Minister Nirmala Sitharaman, to discuss expanding military exercises, Japanese government sources told Kyodo news agency on July 21.
The defense ministers are expected to agree to hold the first-ever military exercise involving the Indian Army and Japan Ground Self-Defense Force (JGSDF). According to Japanese government sources, the first exercise involving Indian and Japanese ground forces could take place before the end of the year. Both sides are also likely to agree to hold a joint air combat drill involving the Indian Air Force and Japan Air Self-Defense Force (JASDF).
Neither the Indian nor the Japanese government have officially confirmed Onodera's trip. Officials so far have also not publicly commented on the prospects of a military exercise involving the land forces of both countries in 2018. While military cooperation between the Indian Army and the JGSDF remains in its infancy, the Indian Navy and Japan's Maritime Self Defense Force (JMSDF) have been forging closer ties already for a number of years.
The Indian Navy, the JMSDF, and the U.S. Navy only last month concluded the 22nd rendition of the Malabar naval exercise, involving aircraft, ships, and personnel from all three navies. Japan became a permanent member of the annually held Malabar naval exercise, originally a bilateral naval drill between the United States and India, in 2015. Last fall, the Indian Navy and the JMSDF held an air-based anti-submarine warfare exercise in the Indian Ocean.
During the 2016 Indo-Japanese Defense Ministerial Meeting, India and Japan agreed to explore setting up a joint Maritime Strategic Dialogue to deepen a lower level annually-held maritime security dialogue between Indian and Japanese defense and foreign ministry officials.
"Japanese and Indian defense officials interact through a number of bilateral forums including the 2+2 Dialogue, Defense Policy Dialogue, and a Coast Guard-to-Coast Guard cooperation dialogue," I explained last year. "In 2016, India and Japan also set up the first dialogue between both countries' air forces." India and Japan have also establishment a Joint Working Group on Defense Equipment and Technology Cooperation.
The defense industries of both sides have also been interested in deepening cooperation. In April, Japanese manufacturer Shinmaywa Industries and Indian defense firm Mahindra Defense entered a partnership to promote the sale of 12 Shinmaywa US-2i amphibious search-and-rescue/maritime surveillance aircraft to the Indian Navy.
India and Japan announced a so-called Special Strategic and Global Partnership in 2006 primarily aimed to strengthen economic cooperation, but also focused on deepening strategic ties, including closer defense cooperation, between the two countries.