Japan Intercepts Chinese Spy Plane in East China Sea
The Japan Air Self Defense Force scrambled fighter jets to intercept a Y-9JB surveillance aircraft on July 27.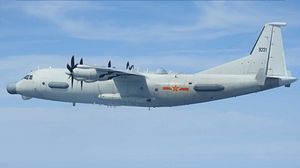 The Japan Air Self Defense Force (JASDF) scrambled fighter jets to intercept a People's Liberation Army Navy Air Force (PLANAF) Shaanxi Y-9JB (GX-8) electronic warfare and surveillance aircraft traversing the Sea of Japan and East China Sea on July 27, the Japanese Ministry of Defense (MOD) said in a statement.
According to the Japanese MoD, Japanese airspace was not violated.
This appears to be the second time that the JASDF intercepted Shaanxi Y-9JB electronic warfare and surveillance aircraft. The last intercept of a Y-9JB took place in June, when the aircraft flew through international airspace between the Japanese islands of Okinawa and Miyako in the East China Sea.
It was only in December 2017 that the PLA Air Force (PLAAF) declared the transport variant of the Y-9JB, the Y-9, a medium-range transport aircraft, operational and combat ready.
Past Chinese patrols usually included Xian H-6K long-range bombers, Shaanxi Y-8 electronic countermeasures aircraft, or Tupolev Tu-154MD electronic intelligence aircraft, accompanied by J-11 or Sukhoi Su-35S  fighter jets.
For example, the PLAAF sent four Xian H-6K bombers, one Y-8 electronic countermeasures aircraft, one Tu-154MD electronic intelligence plane, and at least two Su-35 multirole fighters through the Miyako Strait in March of this year.
The JASDF usually dispatches Mitsubishi F-15J all-weather air superiority fighters, 215 of which — including the upgraded F-15DJ/F-15J Kai variants — are currently operationally deployed with the service.
The JASDF's other workhorse for interceptor missions is the F-2 multirole fighter jet, a Mitsubishi license-produced variant of Lockheed Martin's F-16, of which there are currently around 90 officially in service.
In 2016, the JASDF has doubled the number of fighter jets dispatched for each intercept of foreign military aircraft approaching Japanese airspace from two to four.
As I reported in April, the number of JASDF intercepts decreased by 23 percent in fiscal year 2017 in comparison to the previous year:
Overall, the JASDF scrambled fighter jets 904 times in response to unidentified aircraft approaching Japanese airspace during the last fiscal year that ended in March.

Out of the total of 904, 500 scrambles occurred in response to People's Liberation Army Air Force (PLAAF) aircraft and 390 were prompted by Russian military planes.

This constitutes a decline of 41 percent for PLAAF aircraft, but a 29 percent increase of intercepts of Russian planes. Chinese and Russian aircraft respectively accounted for 55 percent and 43 percent of total intercepts in fiscal year 2017.
Besides the June intercept of a Y-9JB, the JASDF last had to scramble its fighter jets in May to intercept two unidentified PLAAF fighter jets, four H-6K bombers, one Tu-154MD, and one Y-8 aircraft again passing through the Miyako Strait.