Japanese Fighters Intercept Chinese Spy Plane in Sea of Japan
The Japan Air Self-Defense Force intercepted a Chinese surveillance aircraft approaching Japanese airspace on August 29.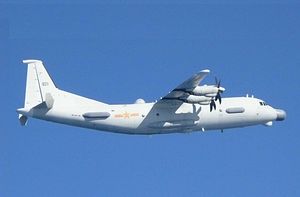 The Japan Air Self-Defense Force (JASDF) scrambled fighter jets to intercept a People's Liberation Army Navy Air Force (PLANAF) Shaanxi Y-9JB (GX-8) electronic warfare and surveillance plane crossing the Sea of Japan and East China Sea on August 29, Japan's Ministry of Defense (MOD) announced today.
This is the third time that the JASDF has scrambled fighters to intercept and monitor a PLANAF Shaanxi Y-9JB electronic warfare and surveillance aircraft. The last intercept of a Y-9JB, also traversing the Sea of Japan and East China Sea, occurred on July 27. Prior to that Japanese fighters intercepted a Y-9JB flying through international airspace between the Japanese islands of Okinawa and Miyako in the East China Sea in June.
In neither of those occasions was Japanese territorial airspace violated.
The Y-9JB aircraft, an upgraded variant of the first-generation Y-8DZ and Y-8G electronic reconnaissance planes, first entered service with the PLANAF in 2004. In 2015, the aircraft was reportedly retrofitted with a 5,000-horsepower 6C turboprop engine with six-blade composite propellers to enhance its range and endurance. Furthermore, the spy plane was fitted with improved cabin pressurization for operations in higher altitudes and has also been equipped with upgraded electronic systems, including new fairings and antennas.
The principal mission of Y-9JB aircraft is communication signal reconnaissance.
Given its relatively small size and slow speed, the PLANAF is working on fielding bigger, more advanced electronic warfare and surveillance planes for service in East Asian waters. (The PLA Air Force declared the transport variant of the Y-9JB, the Y-9, a medium-range transport aircraft, operational and combat ready in December 2017.)
As I reported previously, when undertaking interceptor missions:
The JASDF usually dispatches Mitsubishi F-15J all-weather air superiority fighters, 215 of which — including the upgraded F-15DJ/F-15J Kai variants — are currently operationally deployed with the service.

The JASDF's other workhorse for interceptor missions is the F-2 multirole fighter jet, a Mitsubishi license-produced variant of Lockheed Martin's F-16, of which there are currently around 90 officially in service.

In 2016, the JASDF has doubled the number of fighter jets dispatched for each intercept of foreign military aircraft approaching Japanese airspace from two to four.
As I reported in April, the number of JASDF scrambles decreased by 23 percent in fiscal year 2017 in comparison to 2016:
Overall, the JASDF scrambled fighter jets 904 times in response to unidentified aircraft approaching Japanese airspace during the last fiscal year that ended in March.

Out of the total of 904, 500 scrambles occurred in response to People's Liberation Army Air Force (PLAAF) aircraft and 390 were prompted by Russian military planes.

This constitutes a decline of 41 percent for PLAAF aircraft, but a 29 percent increase of intercepts of Russian planes. Chinese and Russian aircraft respectively accounted for 55 percent and 43 percent of total intercepts in fiscal year 2017.
These numbers were recently confirmed in this year's iteration of Japan's Defense White Paper. "If any suspicious aircraft heading to Japan's territorial airspace are detected, fighters and other aircraft scramble to approach them in order to confirm the situation and monitor them as necessary," an English summary of the report reads. "In 2017, the [J]ASDF scrambled 904 times. Among these, 500 were against Chinese aircraft, and 390 were against Russian aircraft."