Russia's Pacific Fleet to Receive 2 Fast Attack Subs in 2020
Two new diesel-electric attack submarines are expected to be handed over to the Russian Pacific Fleet by November 2020.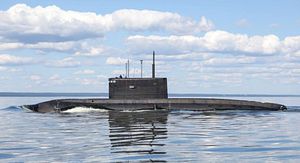 Russia's Pacific Fleet is slated to receive the first two out of six planned improved Project 636.3 Kilo-class (aka Vashavyanka-class) diesel-electric attack submarines in November 2020, the St. Petersburg-based Admiralty shipyard said in its annual report released at the end of June.
Originally, the Pacific Fleet was expected to receive the first Project 636.3 Kilo-class sub already in 2018, a date subsequently pushed back to the end of 2019. As a result of funding uncertainties and bottlenecks in construction, November 2020 has now been set as the new handover date, although additional delays can be expected.
The two submarines — christened the Petropavlovsk-Kamchatsky and the Volkhov — were laid down in July 2017. The initial plan was to deliver two improved Project 636.3 Kilo-class subs in 2019, two in 2020, and the last two in 2021. The revised timeline now foresees the last submarine to be delivered at the end of 2022.
The decision to procure upgraded Project 636.3 Kilo-class boats primarily comes as a result of cost overruns and delays in the Russian Navy's Project 885-M Yasen M-class program. While there are currently five nuclear-powered Yasen M-class subs under various stages of construction, only one Yasen-class sub, the K-329 Severodvinsk, has so far been commissioned into the Russian Navy.
Yet, as I noted elsewhere, it is unlikely that the Russian shipbuilding industry "will complete more than two additional Yasen M-class boats by 2020 due to budgetary constraints — the subs are among the most expensive pieces of military hardware ever built by Russia."
As a result, Russia is working on a new nuclear-powered fifth-generation submarine expected to join the Navy in the 203os. Meanwhile, the improved Project 636.3 Kilo-class boats will serve as a stopgap measure. As I explained previously:
The Project 636.3 Kilo-class is an improved variant of the original Project 877 Kilo-class design. The updated version is slightly longer in length — the sub's submerged displacement is around 4,000 tons — and feature improved engines, an improved combat system, as well as new noise reduction technology. The submarine has a crew of around 50 and can conduct patrols for up to 45 days. The improved Kilo-class can fire both torpedoes and cruise missiles, launched from one of six 533 millimeter torpedo tubes.
The boats have been primarily designed for anti-submarine and anti-surface ship warfare, but can also be used for land-attack missions. For example, Project 636.3 boats have repeatedly attacked land targets in Syria M-54 Kalibr (NATO designation: SS-N-27A "Sizzler") cruise missiles from submerged positions in the Mediterranean Sea.
One of the major technological drawbacks of Russian-designed and built diesel-electric submarines remains the lack of a functioning air-independent propulsion system, which reduced the boats' overall stealth capabilities.