South Korea to Develop Air-Launched Indigenous Long-Range Bunker Buster Cruise Missile
The new missile, to be modeled after the Taurus KEPD 350, is to be carried by the KF-X fighter aircraft currently under development.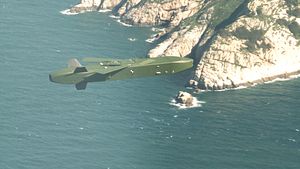 South Korea will design and build its own air-launched long-range bunker buster cruise missile, according to South Korean defense officials. The missile is to be carried by the Korea Aerospace Industries KF-X/Indonesian Aerospace IF-X fighter jet currently under development.
The new weapon system is to be modeled after the Taurus KEPD 350 long-range precision-guided cruise missile, an official of the Agency for Defense Development, a subdivision of South Korea's Defense Acquisition Program Administration was quoted as saying by Defense News earlier this week.
"As part of offset deals to buy Taurus missiles for the past years, South Korea received some part of the Taurus KEPD 350 technologies," the official said. "Based on the transferred Taurus technology, we'll develop our own air-to-ground, long-range missile to be integrated into the KF-X fighter jet, which is expected to be operational by 2026."
Under the $15 billion KF-X fighter program, South Korea and Indonesia have agreed to jointly develop an advanced stealth fighter jet with the Republic of Korea Air Force expected to receive up to 120 fighters and the Indonesia Air Force between 40 and 80 aircraft between 2026 and 2030. While South Korea is funding 80 percent of the aircraft's development, Indonesia has been lagging behind in payment for program due to budgetary constraints, which has caused some consternation among the partners.
Earlier this year, South Korea inked a contract for an additional 90 Taurus KEPD 350s, which brings the total amount of cruise Taurus air-to-surface stockpiled by the Republic of Korea Air Force's to 170-190. The missiles are to be carried by the service's fleet of F-15K Slam Eagle multirole fighter jets. As I noted earlier this year:
Powered by a turbofan engine, the Taurus cruise missile can reach a top speed of up to March 0.9 and has estimated operational range of around 500 kilometers (300 miles). It is armed with a 500-kilogram (1,100-pound) high explosive warhead and is primarily deployed as a bunker buster. It can target hardened North Korean command and control facilities as well as missile launch sites.
Furthermore: "The missile is an integral part of South Korea's so-called Kill-Chain pre-emptive strike program, an integral part of the government's Korea Massive Punishment & Retaliation (KMPR) deterrence strategy." To effectively execute KMPR, however, South Korea will need to significantly boost its intelligence, surveillance, and reconnaissance (ISR) capabilities.
According to Defense News, two South Korean defense firms are expected to be competing for the indigenous cruise missile contract: Hanwha Corporation and LIG Nex1. The contract value is estimated to be around $730 million. The new cruise missile is expected to be ready for operational use by the middle of the 2020s.