Thailand Cave Rescue Finally Ends Soccer Team Ordeal
Rescuers pull soccer team to safety after more than two weeks trapped underground.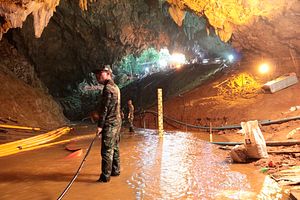 An international search and rescue effort has finally extracted all 12 boys and their soccer coach from a web of caves in northern Thailand, ending an ordeal that captivated a nation and spawned headlines around the world.
In homes, markets, shopping malls and bars across the country Thais held their breath, sat glued to television sets and were elated as the first of the boys were rescued on Sunday night. First it was one, then three, four, six, then four again after a misreport.
By Tuesday the number rose to 11 and the last of the boys and their coach were delivered to safety by cave divers soon after, despite earlier fears about monsoon rains that threatened to flood the caves.
Importantly, the ordeal gave Thais a good reason to rally. Their country has been riven by deeply polarized politics, violent protests and a coup. But the 12 trapped boys provided a focal point for unity as even strangers smiled and said "good news – good news."
But it came at a cost and was far from easy.
The junior soccer team went missing on June 23, after entering the cave in the northern province of Chiang Rai. Thai cave divers found them huddled in a muddy cavern deep inside the dark and dangerous complex, but further help was needed to get them out.
Food and water was sent in, but there was even a suggestion that the 13 remain in the caves until the end of the rainy season, another four months away.
None of the boys could swim and had to be taught basic scuba skills. One diver, Saman Kunan, a former Thai Navy SEAL, died in the initial rescue attempts after ferrying oxygen supplies into the cave along a two-mile route. His own tank had run out of oxygen.
Hundreds of industrial pumps were deployed into the Tham Luang Nan Nong cave complex as more divers and help arrived, initially British, and then eventually the U.S forces, Australian Federal Police, and even an Israeli diver, Shlomi Aroush, who lives in Thailand.
"It's very narrow. The way divers have to work is not a normal way of diving. The visibility is also really bad. You're diving blindly," Aroush told Reuters. "Learning to dive is easy, but this is not normal diving."
American entrepreneur Elon Musk also stepped in, with an offer to fly to Thailand with a mini submarine at hand.
King Maha Vajiralongkorn thanked the search and rescue team and wrote: "This circumstance has clearly shown the power of unity in action, power of love and goodwill towards fellow men regardless of race and religious beliefs."
Outside, by one count, more than 300 reporters, photographers, and cameraman covered their plight which coincided with the World Cup in Russia, further fueling global attention. FIFA officials offered the soccer team free tickets to the final.
It's far from clear if the boys can attend so soon after the ordeal. Most need some basic medical attention and time to adjust after spending so long underground.
Jedsada Chokdumrongsuk, permanent secretary at the Public Health Ministry, said the first four boys rescued on Sunday night were starting to eat regular food, although another two possibly have lung infections.
Answers also need to be found as to how they ended up in such a dreadful predicament, as well as how such incidents can be better managed in the future. But, in the meantime, the 12 boys came home and gave Thais a good reason to smile.
Luke Hunt can be followed on twitter @lukeanthonyhunt