US Seeks New Talks With Taliban in an Attempt to Explore Afghan Peace
A senior U.S. State Department official visited Doha to seek out talks with the Taliban.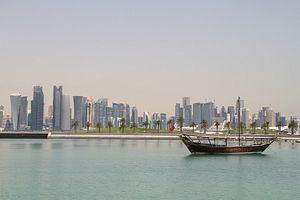 Alice Wells, the deputy assistant secretary for South and Central Asia at the U.S. Department of State, led a U.S. delegation to Doha, Qatar, this week to meet with representatives of the Afghan Taliban based there, the Wall Street Journal reported on Wednesday.
The trip, which concluded on Tuesday, was designed to pave a path for eventual peace talks in Afghanistan, where the United States has been at war since 2001.
The trip marks one of the highest-level efforts by the Trump administration to directly interface with the Taliban. U.S. President Donald J. Trump outlined a strategy for Afghanistan last year that led to a modest increase in the U.S. troop presence in the country, expanded the rules of engagement for U.S. forces there, and made counter-terrorism operations a priority. The administration did not make talks with the Taliban a priority.
"The United States is exploring all avenues to advance a peace process in close consultation with the Afghan government," a State Department official said, without confirming the nature of Wells' trip or possible outcomes. "Any negotiations over the political future of Afghanistan will be between the Taliban and Afghan government," the State Department official added. The talks are likely exploratory, seeking to build on a recent cease-fire in Afghanistan; the Afghan government is involved in the current effort to restart talks.
The United States has made several efforts to negotiate with the Taliban since its invasion of Afghanistan in 2001. The group's establishment of an office in Qatar was brokered by the United States in 2013, prior to the formal end of the U.S. combat mission in Afghanistan. The office was shut down following protests by the government of Afghanistan after the Taliban began identifying itself as an Islamic government in exile.
The current diplomatic effort is the first serious bilateral attempt at talks between the United States and the Taliban since 2013. In 2015, the United States, China, Pakistan, and Afghanistan attempted to sustain talks with the Taliban through a process known as the Quadrilateral Coordination Group. That summer, it emerged that Mullah Omar, the founding leader of the Taliban, had died two years prior, prompting a leadership succession crisis in the Taliban that led to the group's fracturing within Afghanistan.
Today, the Taliban are led by their third leader, Mullah Haibatullah Akhundzada, who succeed Mullah Akhtar Mohammed Mansour after he was killed by a U.S. drone strike in the Pakistani province of Balochistan in 2016.