Are India's US-Made Sub-Hunting Planes Not Meeting the Indian Navy's Operational Requirements?
India's Comptroller & Auditor General has accused the defense ministry of violating procurement processes, among other things.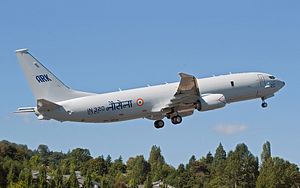 India's Comptroller & Auditor General (CAG), an institution responsible for scrutinizing government expenditure, has accused the Indian Ministry of Defense and the United Progressive Alliance (UPA) government of violating procurement processes in buying eight P-8I Neptune ("Poseidon") advanced maritime patrol/anti-submarine warfare aircraft for $2.177 billion in 2009 from U.S. aircraft maker Boeing.
In a report delivered to the Indian Parliament on August 7, CAG notes that the MoD incorrectly declared Boeing's financial bid for the eight P-8Is to be lower than that of Spanish aircraft maker EADS CASA's (absorbed by Airbus Military in 2009) Airbus A319 long-range maritime patrol aircraft. CAG states that the MoD "enhanced" EADS CASA's bid by including 20-year product support package in the total price, but "ignored" a similar package Boeing's bid.
The CAG report specifically notes that the MOD, "enhanced the financial bid of M/s EADS CASA, Spain to cater for 20 years product support cost while ignoring this element in respect of M/s Boeing, USA. The contract was concluded with M/s Boeing, USA in January 2009 at MUSD 2,137.54 (US $2.177 billion). At a later date, M/s Boeing, USA offered the product support under a separate negotiable contract and consequently the deduced ranking of M/s Boeing, USA as L-1 turned out to be incorrect."
The report also notes that Boeing has so far failed to meet its offset obligation, which amount to 30 percent of contract value. "The Offset obligations of MUSD 641.26 ($641.26 million), to be fulfilled within seven years (August 2016), had not been fulfilled till date. M/s Boeing, USA had claimed Offset credits on mere placement of purchase orders defeating the very purpose of Offset obligations," the report states. However, according to reporting by the Business Standard, Boeing has fulfilled its offset obligations.
The CAG report also criticizes the P-8Is overall capabilities noting that the aircraft does not fully meet the Indian Navy's operational requirements. Nonetheless, Indian Navy officials insist that this assessment is based on outdated information and that the planes are fully functional and capable of fulfilling their mission sets.
India and Boeing signed a contract for the procurement of eight P-8Is in 2009 making the Indian Navy the first international customer of an export variant of the maritime patrol aircraft. Furthermore, in 2016 the New Delhi placed a follow-on order to the $2.1 billion contract for four additional P-8Is at the 2009 purchasing price ($1 billion) with deliveries slated to begin in 2020.
The first P-8I was delivered to India in May 2013. The Indian Navy's first P-8I squadron was stood up at Rajali Naval Air Station in southern India in November 2015.  As of August 2018, the service operates its entire fleet of eight P-8I maritime patrol planes from Rajali. As I explained previously:
The P-8I is equipped with some of the most modern U.S. ASW technology including a Telephonics APS-143 OceanEye aft radar system and a cutting-edge magnetic anomaly detector. (The APS-143 is not present on the original P-8A Poseidon in use by the U.S. Navy.)

The aircraft is also armed with U.S. weapons systems including Harpoon Block-II missiles, MK-54 lightweight torpedoes, [and] rockets. The aircraft are all data-linked with Indian submarines in order to have the capability to pass on information about enemy vessels.
Given the effectiveness of the MK-54 torpedoes and Harpoon Block-II missiles, the Indian Navy reportedly decided against purchasing Mark 82 depth charges for anti-submarine warfare operations. Boeing was awarded a three-year contract to continue its support of the service's fleet of P-8I in June 2017.