Confirmed: India Signs $1 Billion Contract for 4 New Sub-Hunter Planes
India's Ministry of Defense placed a follow-on order for four more U.S.-made Poseidon 8I Neptune aircraft this week.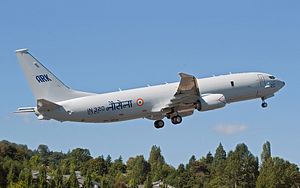 On July 27, India's Ministry of Defense signed a $1 billion deal with U.S. aircraft maker Boeing for the purchase of four additional Poseidon 8I Neptune advanced maritime patrol/anti-submarine warfare aircraft, according to Indian media reports.
The contract was inked during an official visit to New Delhi by U.S. Under Secretary of Defense for Acquisition, Technology and Logistics Frank Kendall, where he, along with representatives of various U.S. defense contractors, met Indian Defense Secretary G. Mohan Kumar.
The Cabinet Committee on Security (CCS), headed by Indian Prime Minister Narendra Modi, approved the purchase of the four additional aircraft in early July (See: "India Clears Purchase of 4 More Sub-Killer Planes"). It is a follow-on order to a $2.1 billion contract signed in 2009 for the procurement of eight P-8Is for the Indian Navy. The original contract contained an option for a direct commercial sale of four more planes at the 2009 price.
The new maritime patrol aircraft, a variant of the U.S. navy's P-8A Poseidon plane,  are expected to be delivered within the next three years. I explained elsewhere:
The first P-8I aircraft was delivered to India in May 2013. The Indian Navy inducted its first squadron of P-8I aircraft at Rajali Naval Air Station in southern India in November 2015 (See: "India Inducts First Squadron of Anti-Submarine Warfare Plane"). All eight planes are currently operational and have been inducted into the navy.
The P-8I aircraft is fitted with state-of-the art sensors and radars for maritime surveillance missions, including tracking enemy submarines:
The P-8I is equipped with some of the most modern U.S. ASW technology including a Telephonics APS-143 OceanEye aft radar system and a cutting-edge magnetic anomaly detector. (…) The APS-143 is not present on the original P-8A Poseidon in use by the U.S. Navy.
The aircraft can reach a top speed of 450 miles per hour and has an operational range of 1,200 nautical miles without refueling. The Indian Navy is armed with a range of U.S. weaponry acquired under the Pentagon's Foreign Military Sales program:
The aircraft is also armed with U.S. weapons systems including Harpoon Block-II missiles, MK-54 lightweight torpedoes, rockets, and Mark 82 depth charges. (…) The aircraft are all data-linked with Indian submarines in order to have the capability to pass on information about enemy vessels.
The new aircraft, however, will not receive U.S.-made secure and encrypted communication suites and electronic warfare (EW) systems, since India and the United States have not signed either the so-called Communication Interoperability and Security Memorandum Agreement (CISMoA) or the Basic Exchange and Cooperation Agreement for Geo-Spatial Cooperation (BECA).
In May, India and the United States agreed to deepen cooperation on anti-submarine warfare (ASW) (See: "India and United States to Deepen Anti-Submarine Warfare Cooperation"). Furthermore, I noted:
India is on the verge of commissioning its first indigenously developed ballistic missile nuclear submarine (SSBN), the INS Arihant, whereas China has purportedly deployed its first-ever submarine nuclear deterrence patrol in December 2015. The Indo-Sino underwater arms race has the potential to contribute to instability in the Asia-Pacific region, as I explained previously.
Delivery of the new aircraft will begin in the middle of 2019 and is slated to be completed by 2021.