China-Built World's Largest Amphibious Aircraft to Commence Trial Flights on Water
Following the completion of flight tests on land, China's largest amphibious aircraft is now set to undergo flight trials on water.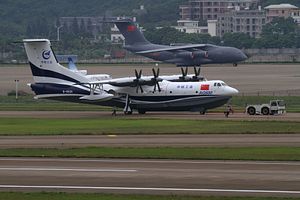 China's indigenously designed and built Kunlong (Water Dragon) AG600 seaplane  will commence flights tests on water in the near future, following this month's successful completion of trial ground flights this month, according to local media reports.
The AG600 finished a last ground training flight from an airport in the city of Zhuhai in south China's Guangdong Province, to an airport in Jingmen, a city in central China's Hubei Province, on August 27, according to Chinese state-owned aircraft developer Aviation Industry Corporation of China (AVIC).
The first round of flight trials on water will be conducted on the Zhanghe reservoir near Jingmen city in China's Hubei province.
The AG600 made its maiden flight, which was broadcast live on Chinese television, from land at Jinwan airport in Zhuhai, Guangdong, China in December 2017. The much anticipated aircraft– believed to be the world's largest amphibious plane–was rolled out at an AVIC plant in the southern city of Zhuhai in Guangdong province in July 2016.
The Boeing 737-sized AG600 aircraft, powered by four WJ-6 turboprop engines, is 37 meters long and has a wingspan of 38.8 meters. The aircraft's maximum take-off weight is 53.5 tons, its maximum cruising speed 500 kilometers per hour, and the maximum operational range without refueling 4,500 kilometers. The plane can carry 50 people and can stay airborne for 12 hours. As I explained in December 2017:
The AG600s principal missions will be marine search and rescue operations and aerial firefighting. The seaplane can also be used for military operations to support Chinese maritime defense needs including transporting supplies and military personnel to Chinese-controlled islands in the South China Sea (See: "Will this Plane Let China Control the South China Sea?").

Assuming, as claimed by the plane's developers, that the AG600 only requires a water depth of 2.5 meters for landing and take-off, it would be an ideal aircraft to supply some of China's artificial features in the Spratly Islands given that they are surrounded by shallow waters.  (…)

Furthermore, according to the AG600s chief designer, the aircraft can make round trips without refueling from the southern island province of Hainan to James Shoal, a disputed small bank in the South China Sea administered by Malaysia but claimed by China as its southernmost territory.
Chinese state media has described the AG600 seaplane as "protector spirit of the sea, islands and reefs."  The AG600 could potentially also be used for long-range patrols, anti-submarine warfare, and mine-laying missions, although the utility of the aircraft for military operations has been questioned by senior Chinese PLA officers. Notably, the Chinese government has already placed an order for 17 AG600s.