Jokowi and Subianto Set to Duel Over the Economy
The battle for the Indonesian presidency looks set to turn on economic matters.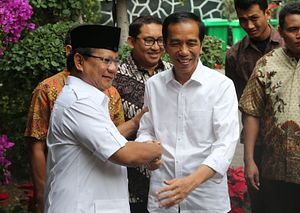 In recent weeks, Indonesia has been engrossed by both the coalescence of political coalitions and the selection of the vice presidential candidates for incumbent Joko "Jokowi" Widodo and his opponent Prabowo Subianto. With these matters now largely resolved, analysts are predicting that the economy will dominate the bulk of political debate ahead of next year's presidential election.
The economy remains one of the Jokowi's weak points, despite a string of successes on education, health, and infrastructure. While many predicted that religion would re-emerge as a major campaign issue, Jokowi's appointment of prolific religious figurehead Ma'ruf Amin as his vice presidential candidate should burnish his religious credentials and render his Islamic faith a non-issue. Subianto, however, is ahead of the game: Knowing that Jokowi would likely appoint such a figure, he shaped the debate early by politicizing the country's economy, with a focus on issues such as Indonesia's foreign debt, the rising cost of living, and foreign workers.
Specifically, Subianto claimed that Indonesia's growing foreign debt would see the country bankrupt by 2030. This comes as Indonesia's foreign debt under Jokowi has grown by 48 percent to $181 billion, due to widespread spending on much-needed infrastructure development. Subianto has also attempted to highlight Jokowi's failed promise of 7 percent GDP growth, made during the 2014 presidential election campaign, as he questions Jokowi's management of the economy. In pushing back against Subianto's attacks, Jokowi will need to highlight Indonesia's steadily improving GDP growth, and upgrades to Indonesia's sovereign ratings in defending Indonesia's economic health. Failure to do so may see Subianto benefit from infusing voter economic dissatisfaction with nationalist fervor.
The rising cost of living is also expected to feature heavily during the campaign, as Subianto will try to capitalize on the negative sentiment bred by stagnating wage growth now putting pressure on Indonesia's growing middle class. Subianto has already flagged this issue repeatedly in recent months, suggesting that protectionist policies were required to resolve the country's overreliance on food imports that were causing high prices. Jokowi has attempted to counter these attacks by shelving $20 billion worth of infrastructure projects and moving the funds into price controls on fuel, energy, rice, and sugar. Jokowi will be hoping that this action will stymie inflation, deflate Subianto's attacks, and keep struggling middle class voters onside.
The issue of foreign workers is also set to re-emerge during the campaign, as Subianto tries to link the issue to underemployment, which currently sits at 30 percent. Subianto and those within his camp have already made overtures regarding foreign workers, particularly those from China involved in mining and infrastructure projects throughout the country. Although foreign workers only make up 0.04 percent of Indonesia's population, the nationalist and economic undertones of the issue resonates with the electorate, due to lingering xenophobic tendencies towards ethnic Chinese in particular. This puts Jokowi in a difficult situation, as he attempts to boost investment through plugging skills shortages with foreign workers. Jokowi must tread carefully on this issue, as his recent PP20 policy, created to speed up the processing of foreign worker applications, may become a focal point of this debate. Subianto has already framed this policy as an attempt to favor foreign workers over Indonesian nationals. 
To be sure, economic issues are not Subianto's only opportunity to attack Jokowi. And beyond Subianto himself, his vice presidential candidate, businessman-cum-politician Sandiaga Uno, will also help add credibility to his own economic profile, and reaffirm the position of the economy at the forefront of the political debate. Sandiaga has already made inroads on this issue by pledging to bring his signature Oke Oce (One Kecmatan, One Centre for Entrepreneurship) initiative to the national level. With the Indonesian electorate now demanding proven track records, adding Sandiaga to the ticket will undoubtedly provide a boost for Subianto, particularly amongst Indonesia's 70 million young voters. 
With Subianto's campaign promising equal wealth distribution, job creation, and cheaper commodity prices, propagating an effective counterargument will be no easy task for Jokowi. Jokowi will need to clearly communicate his government's economic successes if he wants to prevent Subianto from galvanizing support for his candidacy.
Marcus Tantau is an Australian postgraduate student at the Australian National University.