New Pentagon Report Highlights Chinese Military Developments: First Takeaways
The U.S. Department of Defense's 2018 report on Chinese military power is out.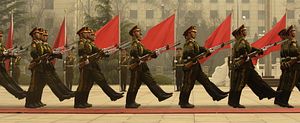 On Thursday, the U.S. Department of Defense (DoD) released its annual report to Congress on Chinese military power. This year's report was noticeably later to arrive than the report's recent iterations, which were published in either April or May. The full report is available here (PDF). Below, I've highlighted a non-exhaustive list of observations drawn from the report.
The People's Liberation Army Air Force has a nuclear mission again. This was probably the biggest revelation in this year's report, which confirmed that the PLAAF has been "re-assigned a nuclear mission". The PLAAF, at some point in the late-1970s or early-1980s, was taken off the nuclear mission, leaving the then-Second Artillery Corps of the People's Liberation Army with an exclusive nuclear mission, built around surface-to-surface ballistic missiles. Today, not only is the PLAAF back with a nuclear mission, giving China an air-based nuclear capability, the People's Liberation Army-Navy (PLAN) continues to operate 4 Type 094 nuclear-powered ballistic missile submarines (SSBNs). In 2018, China is a nuclear triad power.
The PLAAF's nuclear delivery vehicles are left ambiguous. The 2018 report, while clarifying the PLAAF's nuclear mission, does not specify what nuclear-capable systems are currently deployed with the air-leg of China's triad. An informed reader would be left with the likely conclusion that PLAAF bombers likely operate a nuclear-capable air-launched cruise missile today—most probably the CJ-20. This is left ambiguous, however. The report does, for the first time outside of two Defense Intelligence Agency public assessments, draw attention to the PLAAF's burgeoning air-launched ballistic missiles. One of those, the nuclear-capable CH-AS-X-13, was revealed exclusively here in a report at The Diplomat.
 The DF-41 may see new kinds of basing—including rail-mobile and silo-based. The solid-fuel, MIRVed DF-41 intercontinental-range ballistic missile has long been of interest to observers of the People's Liberation Army Rocket Force. This year's DoD report notes that China is possibly looking at "rail-mobile and silo basing" for this missile, which is currently known to be road-mobile and only road-mobile. The report adds that "Development of the CSS-X-20 (DF-41), a new MIRV-capable and road-mobile ICBM, continued in 2017."
China's indigenous ballistic missile defense efforts continue. "China is working to develop ballistic missile defenses consisting of kinetic-energy exo-atmospheric and endo-atmospheric interceptors," the report notes. The Diplomat had earlier this year revealed a Chinese hit-to-kill midcourse interception test involving a DN-3 interceptor against a target medium-range ballistic missile. Though the report did not discuss the DN-3, it did once again mention ongoing work on the HQ-19, noting that "an HQ-19 unit may have begun preliminary operations in western China." Last year, DoD said that the HQ-19 would "fill the midtier of China's BMD network."
The Belt and Road has militarily relevant dimensions. This one won't be too surprising to readers, but it's notable to see an official U.S. government publication discuss China's Belt and Road Initiative in terms as frank as this year's DoD report on China. "China intends to use BRI to develop strong economic ties with other countries, shape their interests to align with China's, and deter confrontation or criticism of China's approach to sensitive issues," the report notes, in a special section dedicated to the BRI. "Some BRI investments could create potential military advantages for China, should China require access to selected foreign ports to pre-position the necessary logistics support to sustain naval deployments in waters as distant as the Indian Ocean, Mediterranean Sea, and Atlantic Ocean to protect its growing interests."
Chinese bomber operations inch toward the second island chain. For the first time, this year's DoD report includes a useful chart outlining the expanding ambit of PLAAF and PLAN maritime bomber operations in the Western Pacific, demonstrating a clearly expanded area of operation. I've discussed this before at The Diplomat (see here, here, here, and here, for example). The report underlines, for instance, that the PLA's first-ever bomber flight beyond the first island chain took place in September 2013, on the second anniversary of the nationalization of the Senkaku Islands by Japan. By 2017, the PLAN and PLAAF together had conducted more than 10 major operations, including electronic warfare, tanker aircraft, and fighters in some instances, across the first island chain, and even circumnavigated Taiwan multiple times. (The implications of this activity are interesting when paired with new confirmation of the PLAAF's nuclear mission.)
Doklam remains hot. Last year's 72-day standoff between the Indian and Chinese militaries on a piece of Himalayan territory disputed by China and Bhutan finds a mention in this year's report. Both countries "maintain a heightened military presence in the surrounding region" following last year's standoff. (India and China deescalated the standoff peacefully, but there's evidence of a heightened PLA presence on the Doklam plateau.)
Status of the 1961 China-North Korea treaty is "unclear". Despite three encounters between Chinese President Xi Jinping and North Korean leader Kim Jong Un, not once have we seen reference to the their 1961 friendship treaty, article two of which includes a mutual defense provision. For the first time this year, the DoD report makes reference to this treaty, noting that "China's willingness to intervene into North Korea to defend Kim Jong Un is unclear." I've mulled this issue over before and the ambiguity surrounding it has grown—especially with this year's renewed Sino-North Korea interaction. The inclusion in the DoD report is especially interesting given former U.S. Secretary of State Rex Tillerson's comment last year that the United States and China had held high-level contingency planning talks on a potential military scenario on the Korean Peninsula.
There's a lot more to the 2018 report—including updates on the PLA's reorganization, developments in the South China Sea, and the military balance around the Taiwan Strait. Disappointingly, the report does not make public any specifics about China's pursuit of hypersonic boost-glide payloads for its ballistic missiles, such as the DF-17. The above are preliminary impressions.