North Korea Has the Trump Administration All Figured Out
Pyongyang is working to decouple Trump from his deputies.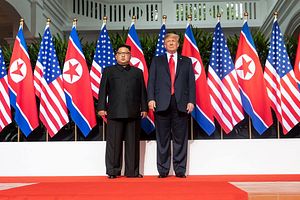 The North Korean regime has the Trump administration figured out. We've had glimpses of an astute understanding in Pyongyang of this administration and what makes it tick for a few months now, but on Saturday, an editorial published in the country's state-run Rodong Sinmun newspaper offered perhaps the most crystallized version of how exactly North Korea plans to make the most of the June 12 meeting between Kim Jong Un and U.S. President Donald J. Trump.
As I've written before — and recently discussed in more detail in a co-authored article with Vipin Narang in Foreign Affairs — North Korea is actively working to decouple Trump from the rest of his administration. The theory behind this approach is simple and alluring from a North Korean perspective. Pyongyang has calculated — accurately, in my view — that Trump is largely interested in the optics surrounding the U.S.-North Korea diplomatic process this year. The flimsy and vague declaration to come out of the Singapore summit underlined that.
Accordingly, North Korea has chosen to emphasize the camaraderie forged between Trump and Kim on June 12 — what it has called the "Singapore summit" elsewhere. Trump continues to egg on this approach by complimenting Kim Jong Un. In an interview with Reuters earlier this week, Trump commented again about how much he liked Kim and how much he thought Kim likes him. "I have very good personal relations with Chairman Kim, and I think that's what holds it together," Trump said. It would seem that the North Koreans would agree.
Saturday's editorial is clear: "Handshakes of the top leaders of the DPRK and the U.S. are the greatest event in the present century declaring an end of the most longstanding and acute cold war on this planet." It also underlined that Trump has a "dream" of "world peace" and his "many rivals" are working to undermine this goal. (One can't help but think that the North Koreans are taking a swipe at Trump's national security adviser, John Bolton, here.)
"The present deadlock of the DPRK-U.S. relations demands a bold decision on the part of President Trump," the editorial continues, offering the crux of what North Korea would like to see out of the United States. Pyongyang is fed up with the more workman-like diplomacy of U.S. Secretary of State Mike Pompeo, who is largely interested in details and how the "final, fully verified denuclearization of North Korea" — something Kim didn't agree to in Singapore — can be achieved.
Instead, North Korea wants Trump to take another leap of faith with Kim — just as he did by saying yes to the Singapore summit. The specifics of the leap aren't too important; there's a long menu of actions Pyongyang would welcome. These include sanctions relief, diplomatic normalization, and even an early move by the U.S.-South Korea alliance to cancel next spring's Foal Eagle/Key Resolve joint military exercises.
Will Pyongyang's push to decouple Trump from his deputies succeed? It's unlikely. Trump already seems to believe that he accomplished a great deal in Singapore. Speaking to Reuters, he took credit for both the intercontinental-range ballistic missile testing and nuclear testing moratoria that Kim had unilaterally announced in April. "I do believe they have," Trump said, when asked if he thought North Korea had taken concrete steps to disarm.
For now, even as Pyongyang attempts to undermine the weight that Pompeo and Bolton enjoy in the administration, it appears that the deadlock will persist. But perhaps another Trump-Kim summit might be designed to fix that. North Korea may well be open to the idea — especially should Kim Jong Un attend the United Nations General Assembly in a historic first this year.